VR Trans Anal Masturbation in Sexy Lingerie

VR Trans Anal Masturbation in Sexy Lingerie with Leticia Muller
Leticia Muller stretches out her ass using a purple dildo.
Irresistible hottie, Leticia Muller, can't help but feel horny while alone in her bedroom. The sexy black lingerie she's wearing makes her more lustful and naughtier. Unable to resist the urge to play with herself any longer, the beautiful bombshell starts massaging her crotch and ass. She uses her warm hands to tease her rod and small tits. It doesn't take long before her shaft is hard and ready for action. Simply jerking off is not enough to satisfy the insatiable lust building up inside Leticia. As such, she brings out her ever-reliable dildo to help her out. Leticia bends over on the bed with her natural ass sticking out in the air. She then spreads her butt cheeks and shoves the huge purple dildo up her ass.
The sexy lady can't help but moan in pleasure as she slides the dildo in and out of her behind while also stroking her rod. She sits on the bed and lifts her legs up to show the full splendor of her stretched–out ass. Leticia continues with her solo masturbation without a care of the world around her. The only thing running in her mind is to have the feeling of satisfaction and pleasure from an explosive orgasm. She tirelessly sticks the sex toy in and out of her ass until she feels like she is about to cum. Leticia kneels on the bed and happily strokes her rod until she shoots out her white sticky cum all over the bed. 
Enjoy more solo masturbation scenes in VR voyeur at VirtualRealTrans.
VR Trans Anal Masturbation in Sexy Lingerie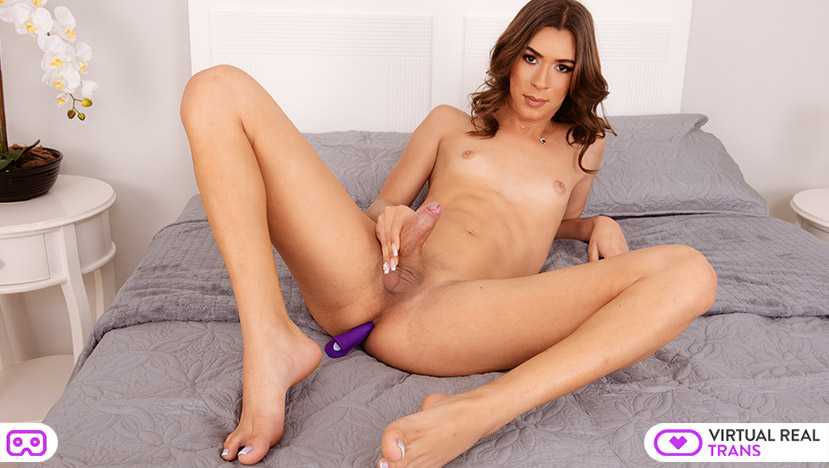 Because we want to make VR Trans Porn videos for your delight. Then join to our awesome VR Trans Anal Masturbation in Sexy Lingerie website. Available for your Oculus Go, Oculus Rift, Gear VR, PSVR, HTC Vive or any other VR smartphone device.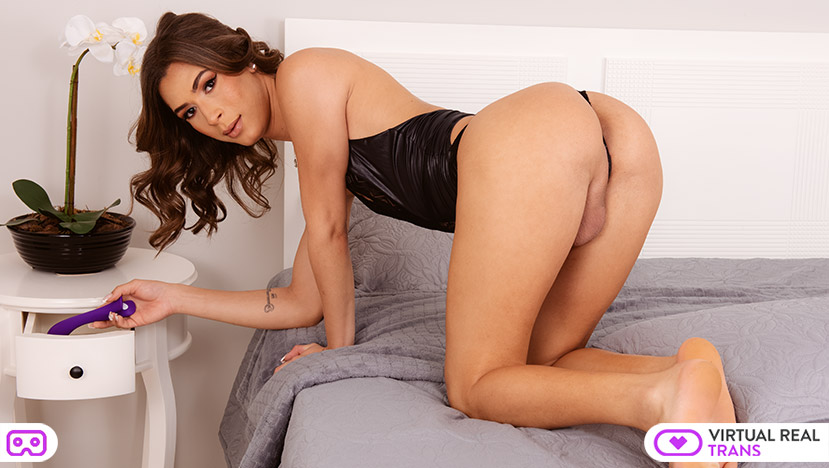 Then join us NOW to watch more VR Trans Anal Masturbation in Sexy Lingerie service videos! REAL SEX in your Virtual Reality Headset! Oculus Rift S, Oculus Quest, Gear VR, Smartphone Cardboard, HTC Vive, Daydream VR, Mi VR, PSVR…). So have a great time with our latest production for VirtualRealTrans "Alone in my Bed".
Please don't forget to tell us all your requests and comments! There are very important to us to keep on improving.
Finally discover our different VR XXX websites: VirtualRealPorn, VirtualRealPassion, VirtualRealAmateur, VirtualRealGay the latest  Japanese VR site VirtualRealJapan and the VR Porn game: VRLove