Sex Education in VR Trans with Juliana Oliveira

Sex Education in VR Trans with Juliana Oliveira and Victor Hugo
Sex education is essential, which is why Juliana Oliveira asked for your help in studying for an upcoming test. Clad in a little black dress and a cute pair of glasses, she sits beside you as she goes through her notes in class. Your mind starts to wander as you stare at her more, imagining how you'd preferably study every inch of her glorious body. Juliana notices how distracted you've become and can't help but get turned on at the sight of your hardening member.
Abandoning all pretense, Juliana Oliveira suggests applying what she learned into action and asks if you would like to help her out. Of course, you gladly let her do what she must to study and get a good grade in her class. Starting with a sensual blowjob, Juliana takes her time in getting acquainted with your sizable member. You watch her with heated eyes as she takes charge and goes on top of you, switching to various positions as she gets lost to the sensations and giving her a few strokes along the way. You thrust into her in missionary and doggy before letting her get a chance of slipping into your tight hole.
Sex Education in VR Trans with Juliana Oliveira
Because we want to make VR Trans Porn videos for your delight. Then join to our awesome Sex Education in VR Trans website. Available for your Oculus Go, Oculus Rift, Gear VR, PSVR, HTC Vive or any other VR smartphone device.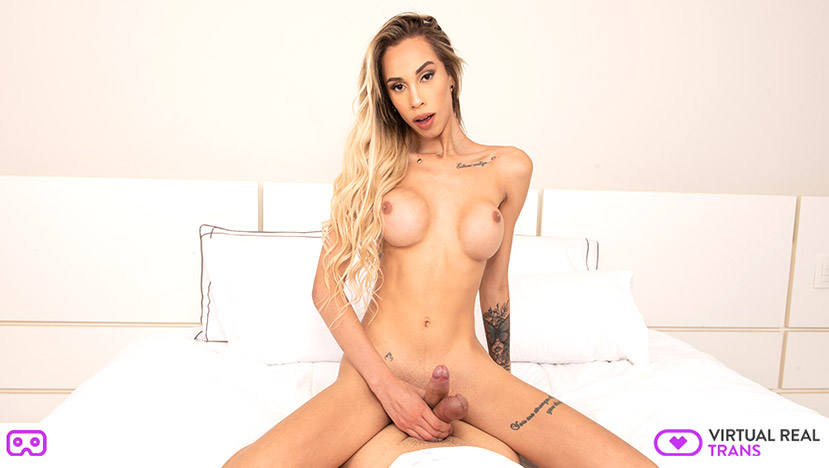 Then join us NOW to watch more Sex Education in VR Trans service videos! REAL SEX in your Virtual Reality Headset! Oculus Rift S, Oculus Quest, Gear VR, Smartphone Cardboard, HTC Vive, Daydream VR, Mi VR, PSVR…). So have a great time with our latest production for VirtualRealTrans "Studying Your Body".
Please don't forget to tell us all your requests and comments! There are very important to us to keep on improving.
Finally discover our different VR XXX websites: VirtualRealPorn, VirtualRealPassion, VirtualRealAmateur, VirtualRealGay the latest  Japanese VR site VirtualRealJapan and the VR Porn game: VRLove