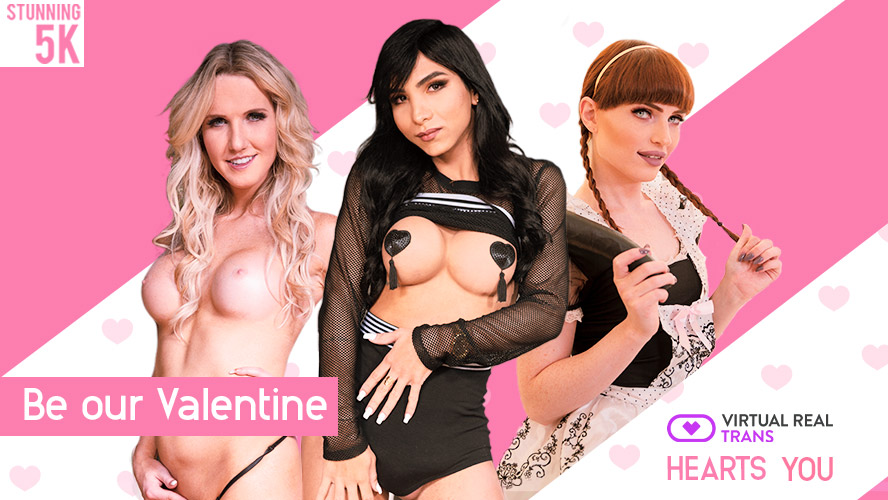 Trans VR Porn Valentines Day compilation
Trans VR Porn Valentines day hot compilation for your delight on this special day.
"Everything is about sex" How many times have you heard this sentence, by now so cliché as that "it's not you, it's me"? Answer: tons of times. Truth is, everything is about sex, and we don't say it because we were the creators of Trans VR Porn. Within technology we found a place to put masturbations, shags, threesomes and orgies in the spotlight. What is to say, sex.
If you are still a bit skeptical about this, let's revise international economics.
Because nowadays, there is a percentage of the world population who invests great amounts of money in Trans VR Porn Valentines; but there's also another percentage who decides using their oculusgo to watch the new post in VirtualRealTrans, masturbate and celebrate the joy of having or not a partner.
Trans VR Porn Valentines Day hot compilation for your delight on this special day
Wether you are with someone or not, we would like to give you the best of this day with the best videos in virtual reality trans porn and have your own party:
All included: Remembering is living, who wouldn't like to go back in time to that luxurious hotel where your waitress was sexy US trans Kayleigh Coxx, who gave a VIP service to her client's penis with blowjobs and titjobs?
Behind his back: Leaving aside this celebration in VirtualRealTrans, what has been the best party you've ever been invited to? Chanel Santini's without a doubt! It wasn't exactly about playing with their friends in the Living Room and listening to their stories but on the couch fucking her hard ass.
Samba with me: You definitely couldn't do risky things if you were with someone. Starting with a samba lesson with sensual Brazilian Yasmin. Truth is, you didn't end up shaking your hips like Shakira. But you did practice lots of movements with your penis inside her hard ass.
The sweetest dessert: You never know someone till you try her food. So you didn't get to try the desserts US trans Jonelle Brooks prepared. Mainly because both fuck enough to know her true personality.
This video is so hot it was nominated for best VR scene at Transgender Erotica Awards 2018.
The sweetest dessert was considered one of the best VR Trans scenes of the year
Tropical threesome: there isn't a proper party without good cocktails. So you'd better take note of tropical threesome; a drink which starts with a threesome with Hanna Rios and Luana Pacheco and ends cumming on their tits. See? As easy as enjoying any Trans VR Porn Valentines experience.
As if by magic 1: Magic isn't real except in VR world. Like any other day, you grabbed your gearvr, got into VirtualRealTrans and with no explanation sensual US trans Jonelle Brooks appeared.  What could you do? Obviously: an anal.
As if by magic 2: if there's one there will be two. Don't take off your VR headset, and sexy German Kimber Lee will appear. She will look for a penis to give a titjobs.
Nerdy Nikki: We couldn't make this list without remembering one of the best solo scenes of VR Trans Porn. And even though for sexy Slovenian Nikki Vidic watching Star Trek is more important than having a partner. That doesn't mean she doesn't masturbate her enormous penis from time to time.
A doll and other toys: When you search the sexiest US trans, all Google pages name Natalie Mars. So, now that you know it, picture an experience in virtual reality porn where this bombshell plays introducing lots of dildos into her hard ass. And before cumming while reading this plot, you'd better get your oculusrift and check it out yourself.
Finally you can take a look to our different VR Porn websites and enjoy: VirtualRealPorn, VirtualRealPassion, VirtualRealAmateur, VirtualRealGay our latest site VirtualRealJapan and the amazing VR Sex game: VRLove