Saint Patrick VR Trans with Gabrielly Ferraz
Saint Patrick VR Trans starring by Gabrielly Ferraz.
One thing about St. Patrick's is that it leaves lots of hangovers and few memories. You weren't the only one who thought going to the Jacuzzi of VirtualRealTrans hotel could be the perfect solution to heal that headache. Gabrielly Ferraz was still wearing the outfit from the previous night when she noticed you there. This kind of chance encounter where you both know what you want without saying that much are for her the ones worth remembering despite the blackouts.
When she started washing off all the paint from her body and touching her smooth tits to get them clean, you realized she didn't know you were there. It was quite obvious her St. Paddy's Day party had been much better than yours. Still, she thought you were so hot, she decided to invite you over to her room. Let's say when she began to turn you on rubbing her ass with your penis in reverse cowgirl position, you didn't hesitate to tell her: YES!
There's no doubt you both live for those unexpected moments in VR Trans Porn. As soon as she sat on you in cowgirl position, started touching her nipples while you were fucking in missionary position and masturbating at the same time she gave you great pleasure, you confirmed how smart you were having more than one condom on you.
Saint Patrick VR Trans with Gabrielly Ferraz
Because we want to make VR Trans Porn videos for your delight. Then join to our awesome Saint Patrick VR Trans website. Available for your Oculus Go, Oculus Rift, Gear VR, PSVR, HTC Vive or any other VR smartphone device.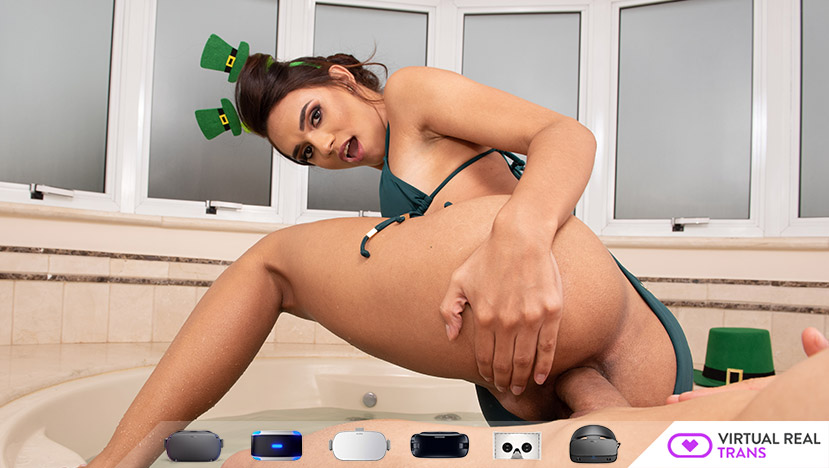 Then join us NOW to watch more Saint Patrick VR Trans service videos! REAL SEX in your Virtual Reality Headset! Oculus Rift S, Oculus Quest, Gear VR, Smartphone Cardboard, HTC Vive, Daydream VR, Mi VR, PSVR…). So have a great time with our latest production for VirtualRealTrans "St.Patrick's Hangover".
Please don't forget to tell us all your requests and comments! There are very important to us to keep on improving.
Finally discover our different VR XXX websites: VirtualRealPorn, VirtualRealPassion, VirtualRealAmateur, VirtualRealGay the latest  Japanese VR site VirtualRealJapan and the VR Porn game: VRLove