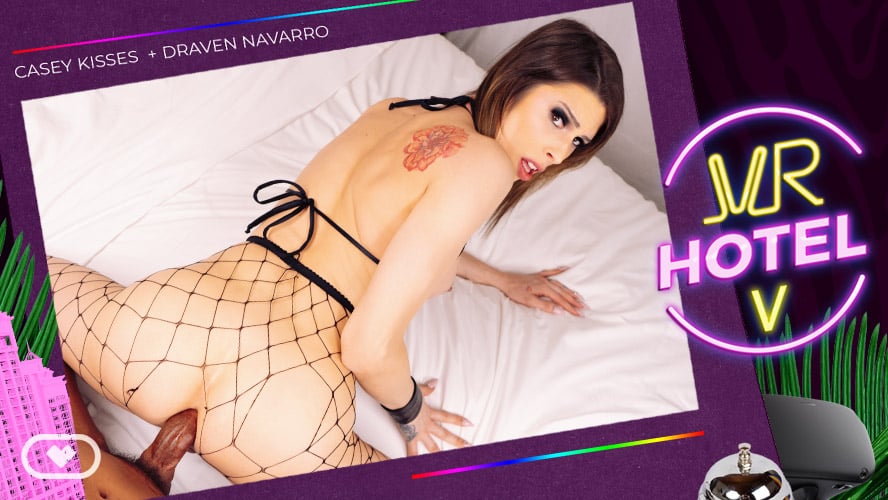 VR trans titjob with Casey Kisses
VR trans titjob starring by Casey Kisses and Draven Navarro!
You have accomplished many goals in your life. Being a successful businessman, growing a family and a great house with swimming pool. Thanks to all that success, you know opportunities only show once. That's why, as soon as you read about VR Hotel, a place where dreams come true, you didn't hesitate to make your fantasy come true: living an adventure with Casey Kisses.
Reaching the position you enjoy nowadays took its time. So, after taking the courage to book a room and ask for Casey services, you made sure privacy was top and cover any mirror that could hide a camera (and so avoid bribery) with a bed sheet and a LGBTQ+ flag another client left in the room. One good forewit is worth a blowjob and a titjob.
In the regular world you are a very important CEO but, in this room, she's the one in charge. So, if she tells you to fuck in cowgirl position and doggy style you'll just do as she wants, right?
And if she gives you a footjob till you cum on her feet, that will make a great finale and an unforgettable VR Trans Porn experience.
VR trans titjob starring by hottie Casey Kisses!
Because we want to make VR trans titjob videos for your delight. Then join to our awesome Tranny 3D VR videos website. Available for your Oculus Go, Oculus Rift, Gear VR, PSVR, HTC Vive or any other VR smartphone device.
Then join us NOW to watch more VR trans titjob service videos! REAL SEX in your Virtual Reality Headset! Oculus Rift S, Oculus Quest, Gear VR, Smartphone Cardboard, HTC Vive, Daydream VR, Mi VR, PSVR…). So have a great time with our latest production for VirtualRealTrans "VR Hotel V".
Please don't forget to tell us all your requests and comments! There are very important to us to keep on improving.
Finally discover our different VR XXX websites: VirtualRealPorn, VirtualRealPassion, VirtualRealAmateur, VirtualRealGay the latest  Japanese VR site VirtualRealJapan and the VR Porn game: VRLove