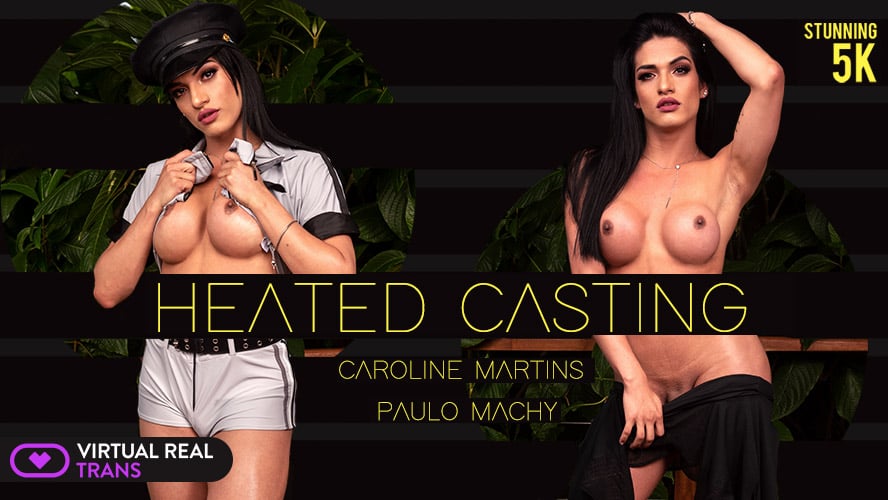 VR Trans sex casting with hot Caroline
VR trans sex with Caroline Martins during a casting on this new scene.
You may know that, when someone wants to be an actress, she will make anything possible to be successful. So every time sensual Caroline Martins has a casting, she gets so deep into the character that makes everybody believe she's doing a video in VR Trans Porn. This time you'll be the director of this casting, and for that you'll need your oculusgo and a comfy place, such as the sofa.
So, how much does she want this role? Well, after watching her in a policeman uniform moving her big tits very close to you, you know her talent is as described on her résumé. That's why is better to test how much this Amazonian could give you in this virtual reality sex experience.
Caroline Bastos is more than ready to show you how amazing she is doing vr blowjobs and how much the camera loves her when she's doing different positions like cowgirl and reverse cowgirl.
There's no need to say that, if you were already convinced in the beginning, after enjoying a vr anal, the leading role on VirtualRealTrans is for her without a doubt.
VR trans sex with sensual hot shemale Caroline Martins during a casting
So we want to make new VR trans sex videos for your delight. A lot of new scenes with more hot VR Brazilian trans models in many different situations. Because we want to make your sexual Trans wet dreams come true. Available for your Oculus Go, Oculus Rift, Samsung Gear VR, PSVR, HTC Vive or VR smartphone headset.
So help us to keep on creating much more VR trans sex scenes for you! Then select quarter or annual option in the registry! Sign up NOW and ENJOY our amazing VR trans sex videos! REAL SEX in your Virtual Reality Headset! Oculus Go, Oculus Rift, Samsung Gear VR, Smartphone Cardboard, HTC Vive, Google Daydream VR, PSVR…). VirtualRealTrans' "Heated casting". Click here!
Please don't forget to tell us all your requests and comments!
Finally Enjoy! and feel free to take a look to our VR Porn network: VirtualRealPorn, VirtualRealPassion, VirtualRealAmateur, VirtualRealGay our latest site VirtualRealJapan and the amazing VR Porn game: VRLove