VR Trans Porn blowjob with Nataly Souza

VR Trans Porn blowjob starring by Nataly Souza.
For a moment you forgot what day that was. It was April Fools Day. When your wife, Nataly Souza told you to prepare a "special" dinner, you knew something "fishy" would happen. You couldn't have imagined finding a ring when you opened that box. And not precisely an engagement ring, but one to give you both pleasure. It's not your favorite day of the year, but you can't deny every 1st of April comes with something to surprise you. Starting an adventure in VR Trans Porn on the living room table wasn't exactly what you had in mind for today.
You have always wanted to spice things up in your relation. Bringing some sex toys to bed is something you think of as hot, but you never dared to do. So Nataly thought April Fools Day could be the great occasion to surprise you with a dinner and start playing with your cock with this new buy.
While she was sitting in reverse cowgirl position, you could feel that vibration running through your body. She felt it too, that's why she thought it would feel even better if you fucked her in doggy style. You didn't hesitate a second in putting her against the table to keep on enjoying this adventure in XXX Trans Porn.
You couldn't stand it anymore, Nataly Souza was so excited on you in cowgirl position, she couldn't help but cumming over you. And you? In her mouth after licking and touching your cock.
Without a doubt, an April Fools to remember. And an experience in virtual reality shemale porn to repeat.
VR Trans Porn blowjob with Nataly Souza
Because we want to make VR Trans Porn videos for your delight. Then join to our awesome VR Trans Porn blowjob website. Available for your Oculus Go, Oculus Rift, Gear VR, PSVR, HTC Vive or any other VR smartphone device.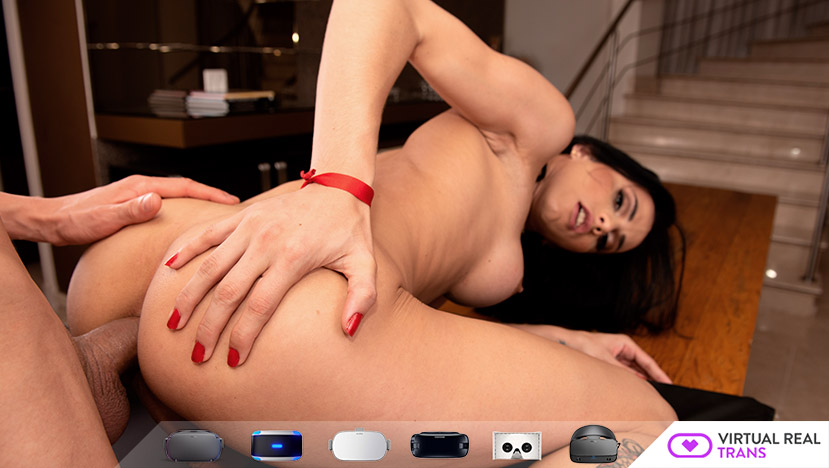 Then join us NOW to watch more VR Trans Porn blowjob service videos! REAL SEX in your Virtual Reality Headset! Oculus Rift S, Oculus Quest, Gear VR, Smartphone Cardboard, HTC Vive, Daydream VR, Mi VR, PSVR…). So have a great time with our latest production for VirtualRealTrans "Don't panic".
Please don't forget to tell us all your requests and comments! There are very important to us to keep on improving.
Finally discover our different VR XXX websites: VirtualRealPorn, VirtualRealPassion, VirtualRealAmateur, VirtualRealGay the latest  Japanese VR site VirtualRealJapan and the VR Porn game: VRLove