VR high heels trans samba lessons
VR high heels trans Yasmin is here to give you some samba lessons
We know it's a bit early, but the best thing you can do is starting your list of resolutions for next year. And, besides writing down the usual "eating more healthy and doing more exercise", you should add "signing up" for samba lessons in VR trans Porn with well gifted busty brunette Yasmin. But you don't need lots of motivation. Just grab your oculusgo or any other headset you have, and find a place comfortable enough to heat you up.
No worries, because this sensual Brazilian has years of experience and she knows she has to go step by step. Starting with a bit of penis stretching with a handjob and cooling down with a very wet blowjob.
You may not end up shaking your waist like Yasmin. But you sure will end up with hundreds of hours of practice on your penis. By doing cowgirl position and reverse cowgirl inside her hard ass.
For a big reason like this brunette's penis, at VirtualRealTrans we always say: "You should always learn something new everyday… or fuck someone new"
VR high heels trans Yasmin is here to give you some samba lessons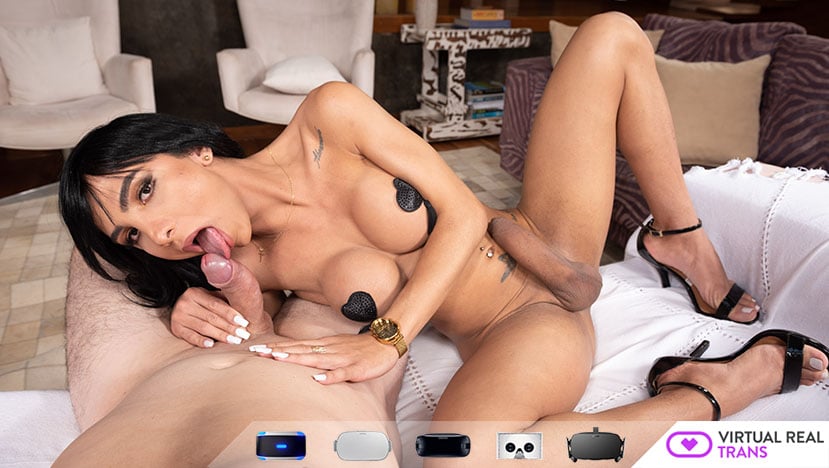 So we want to make new VR high heels trans videos for you. A lot of new scenes with more hot VR trans porn models in many different situations. Because we want to make your sexual Trans wet dreams come true. Available for your Oculus Go, Oculus Rift, Samsung Gear VR, PSVR, HTC Vive or VR smartphone headset.
Then help us to keep creatingmore virtual reality adult VRhigh heels trans fantasies for you! Select quarter or annual option in the registry! Sign up NOW and ENJOY our amazing VR high heels trans videos! REAL SEX in your Virtual Reality Headset! Oculus Go, Oculus Rift, Samsung Gear VR, Smartphone Cardboard, HTC Vive, Google Daydream VR, PSVR…). VirtualRealTrans' "Samba with me". Click here!
Please don't forget to tell us all your requests and comments!
Enjoy!
But do not forget to check our VR Porn network with plenty of different VR Sex fantasies: VirtualRealPorn, VirtualRealPassion, VirtualRealAmateur, VirtualRealGay our latest site VirtualRealJapan and the amazing VR Porn game: VRLove