VR Blonde shemale with Aubrey Kate

VR Blonde shemale starring by Aubrey Kate!
Sadly, you've been called "the jinxed" since secondary school. When you were about to get your pants down, turn your Oculus Rift on and practice your own stress relief technique, you saw a raffle to celebrate the Fourth Anniversary with Aubrey Kate. There's no need to say that before enjoying an experience in virtual porn, you wanted to try your good karma.
You don't usually get in your inbox an e-mail with an address to go to an industrial unit lost somewhere and participate in an exclusive celebration. When these chances appear, your MC welcomes you wearing a latex suit with a whip in her hand.
You can't really say if it was the moment you felt Aubrey's lips doing you a blowjob, or when she started fucking you in missionary. Or maybe it was when she told you to do doggy style and cowgirl position. Anyway, you knew it was just about time to change your name to "the Winner"
Aubrey Kate loves doing blowjobs instead of bringing a cake and some candles to celebrate a year of happiness and enjoying every cumshot which will make next year even better.
Celebrate our 4th Anniversary with us, and don't forget to give us your feedback to create new experiences!
VR Blonde shemale starring by hottie Aubrey Kate!
Because we want to make Ebony VR shemale videos for your delight. Then join to our awesome Tranny 3D VR videos website. Available for your Oculus Go, Oculus Rift, Gear VR, PSVR, HTC Vive or any other VR smartphone device.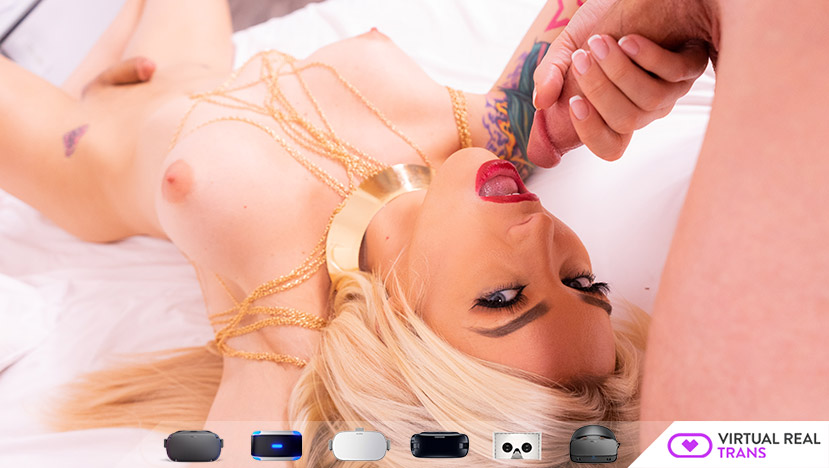 Then join us NOW to watch more VR Blonde shemale service videos! REAL SEX in your Virtual Reality Headset! Oculus Rift S, Oculus Quest, Gear VR, Smartphone Cardboard, HTC Vive, Daydream VR, Mi VR, PSVR…). So have a great time with our latest production for VirtualRealTrans "Exclusive celebration".
Please don't forget to tell us all your requests and comments! There are very important to us to keep on improving.
Finally discover our different VR XXX websites: VirtualRealPorn, VirtualRealPassion, VirtualRealAmateur, VirtualRealGay the latest  Japanese VR site VirtualRealJapan and the VR Porn game: VRLove