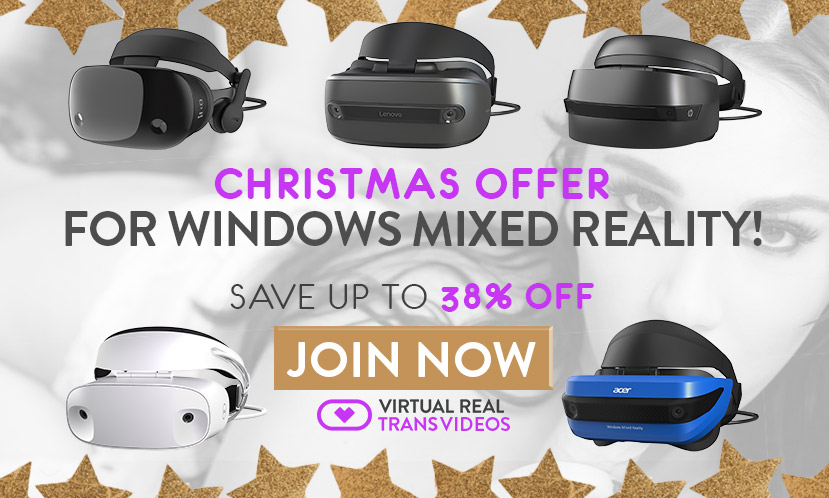 VirtualRealTrans now for Windows Mixed Reality Headset!
Looking for some virtual reality transsexual porn videos for Windows Mixed Reality Headset?
VirtualRealTrans has done it again! Now, the whole VirtualRealTrans catalogue is available for all Windows Mixed Reality! With the Windows Mixed Reality Headset launch, VirtualRealTrans has achieved to join virtual reality transsexual porn with the latest technology.
We have been waiting for so long for these headsets which mix VR with AR and finally, Acer, Dell, Lenovo, Samsung Odyssey and Asus are now compatible with all VR transsexual porn scenes.
Thanks to VirtualRealTrans you can enjoy now all the VR transsexual porn videos with the Windows Mixed Reality headset. It's super easy because is Christmas time and VirtualRealTrans has made the best offers for this white days! Click here to join us!
You can find the installation process in our support area. Follow the steps and enjoy all the virtual reality transsexual porn in your Windows Mixed Reality headset.
And this is just the beginning because WMR are gonna bring us many surprises in the future and VirtualRealTrans will be there to offer the best immersives experiences for all our users.
And there is much more! Remember that you can download our VirtualRealPlayer 0.7.13 to synchronize teledildonics with our videos using a Windows Reality Headset. Go to the next level with all these devices we support!
Don't miss our Christmas offer and use your Windows Mixed Reality headset without excuses. You have bought it just for porn and we know it!
Merry XXX-MAS
Special Offer!
Streaming – $7,95
One month – $9,95
One year – $59,95
Join now to the world's biggest VR Transsexual Porn site!