VirtualRealTrans tested in detail at VRPornMania
VirtualRealTrans tested in detail at VRPornMania!
Shemales are a juicy and forbidden fruit that can finally, with the help of Virtual Reality, be experienced as if you are right there. One of the greatest advantages of VR is the ability to do things you normally wouldn't (or maybe you would but can't) – to get new and exciting impressions of a world you haven't known before. All as though you are actually living it! Isn't that just awesome for transsexual porn?
VR Porn Mania seems to be of the same opinion as they rated our site, VirtualRealTrans, a whopping 4.8/5 stars, giving us the first place in their shemale VR porn site (https://vrpornmania.com/best-vr-porn-sites-top-adult-list/#transsexual) ranking. As they reviewed every available VR porn site, getting the first place is quite some achievement. VRPornMania seems to be very thorough in their rating, as they go into every aspect of the VR porn experience, starting with the Content.
VirtualRealTrans tested in detail at VRPornMania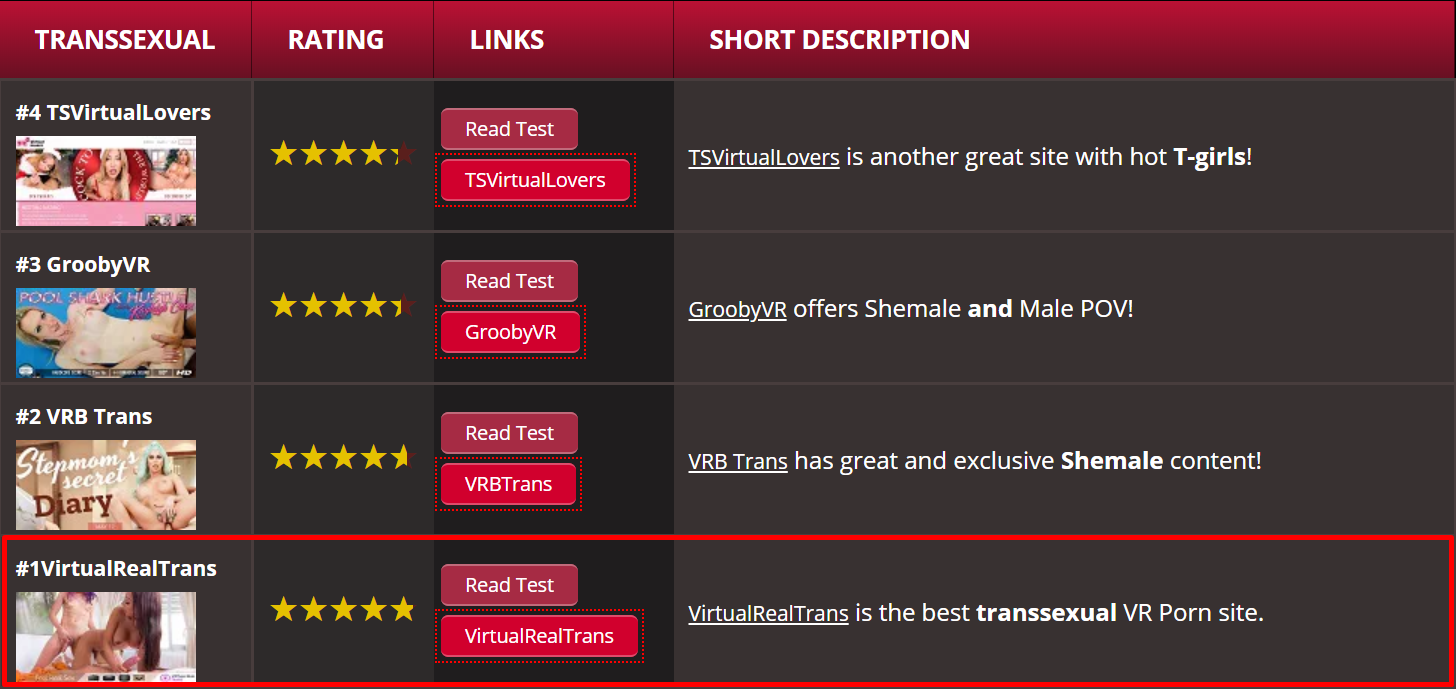 In the content category, we got a full score of 5 out of 5 stars, making us quite proud. As they put it, we provide "high-quality content" with "hot transsexual models." That's quite accurate, isn't it? We always try to make each scene even better than the previous one. Insuring an overall perfect quality of the content we produce. That also translates into the Visual Quality category, where we also have scored a full rating. VRPornMania seems to love our 5k resolution videos that provide an awesome viewing experience. At VirtualRealtrans we always try to improve the visual quality of the videos we produce. VirtualRealTrans scores a full 5/5 in variety as well. We have a lot of different shemale models that all bring new skills and qualities to the table. VRPornMania loves that we have different ethnicities to spice up variety. In the category future and the category site and extras, we scored 4.5/5 stars each making the overall score nearly perfect. Our site features an easy navigation and search option. And, of course, we don't plan to go anywhere! Instead, we invest in the future of our site and the content we produce. Overall, the score we got is a fair one with
You can check out the full review here: VirtualRealTrans.

Also, additionally to all the reviews, VRPornMania also offers free full-length VR porn , where you can check out the different studios. This is quite helpful if you can't decide exactly which studio to get. So, of course, it is apparent that you best go with their top-rated studio. Which for the trans category is VirtualRealTrans! Overall, VRPornMania offers information to everything you might seek in the VR porn world. Site reviews, videos, games, and even helpful tips and step-by-step guides to every Virtual Reality headset out there. They know their stuff, and thus their rating for VritualRealTrans can be taken seriously!