Very Exceptional Gift in VR Trans with Julianny

Very Exceptional Gift in VR Trans with Julianny Rodrigues and Victor Hugo
Surprising your bewitching girlfriend, Julianny Rodrigues, who shows her gratitude in more than words.
There might not be a special occasion, but you prepared a very exceptional gift for your lovely girlfriend, Julianny Rodrigues. She looked scrumptious in her fitted black leather dress that you can't help but let naughty thoughts fill your head and your member harden. The ravishing Julianny starts to strip off her dress to reveal her skimpy lingerie and natural ass. When she was on her knees between your thighs, you show her the gift you bought, a black choker that had a chain leash attached to it. The blonde darling was delighted and asked for you to fit it around her neck as she rubs your already throbbing ramrod.
With the collar in place, Julianny turns into the perfect submissive as she unbuttons your pants and gives your aching member the treatment it deserves. She starts to lick up and down your shaft as you pull on her leash, sliding it into her mouth to give you a thorough blowjob. When neither of you could resist the passion filling up the room, you slide between the cheeks of her rounded ass and let her ride you in reverse cowgirl. Both of you engage in various positions, like missionary and doggy, before Jualianny takes charge and penetrates your needy hole. Close to cumming, she slips out of you and mounts you in cowgirl, then starts to jerk herself off as you watch.
Very Exceptional Gift in VR Trans with Julianny Rodrigues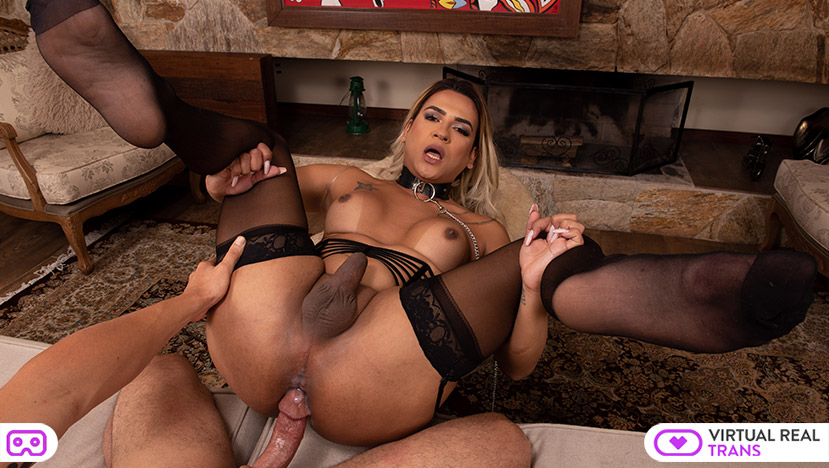 Because we want to make VR Trans Porn videos for your delight. Then join to our awesome Very Exceptional Gift in VR Trans website. Available for your Oculus Go, Oculus Rift, Gear VR, PSVR, HTC Vive or any other VR smartphone device.
Then join us NOW to watch more Very Exceptional Gift in VR Trans service videos! REAL SEX in your Virtual Reality Headset! Oculus Rift S, Oculus Quest, Gear VR, Smartphone Cardboard, HTC Vive, Daydream VR, Mi VR, PSVR…). So have a great time with our latest production for VirtualRealTrans "A Different Purchase".
Please don't forget to tell us all your requests and comments! There are very important to us to keep on improving.
Finally discover our different VR XXX websites: VirtualRealPorn, VirtualRealPassion, VirtualRealAmateur, VirtualRealGay the latest  Japanese VR site VirtualRealJapan and the VR Porn game: VRLove