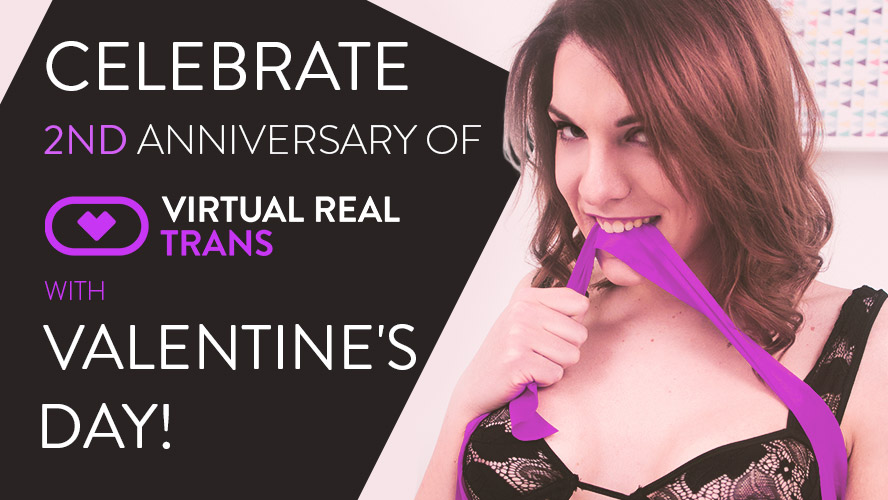 Two years of love on VirtualRealTrans.com
Two years of love on VirtualRealTrans.com beside you.
As well as commemorating love, during February we are celebrating two years of the first virtual reality web; a web that wanted to share this great feeling expressed in all its shapes, colours and sizes.
On VirtualRealTrans we are pushing our gearvr googles out with these fantastic 730 days during which we have been able to grow up with amazing actresses as US "brown sugar" Natassia Dreams, or Italian "well-gifted" Eva Paradis (who were, in fact, the first ones taking part in this revolution whose main focus was oculus rift). Little by little, as in technology, many others came to our emerging family: Venus Lux, Vanessa Johns, Kimber Lee, Angelina Torres, Holly Harlow, Bianka Nascimiento, Kelmanny Koutty, Bianca Hills and many other women who are, and have, anything but small.
Just for the nostalgia that celebrating a second anniversary in virtual reality brings, we wanted to look back on all the anals, titjobs, threesomes, masturbations, the first time with a tgirl and creampies; all of them on an endless number of original scenes, such as that one where sexy red-haired Nikki Vic lost her cat and asked you for help in exchange for sticking your great penis into her tight hole, ring a bell? Or that moment when Amarna Miller was your girlfriend, and she was so cool she wanted to make your fantasy come true: a threesome with US tgirl Kelli Lox (wonderful, right?)
We have created and produced all these stories so every year, during Februrary, we are able to celebrate the wonders love in 180º has done in 365 days. And if you can also have an orgasm in virtual reality, it's just the cherry on top!