VR Porn Transsexual Brazilian goddess
VR Porn Transsexual Brazilian goddess Luana Pacheco is here to live a wet adventure with you. Are you ready for such blonde transsexual?
You already know what it's said: best things always happen in a hotel. Or, at least, that's what we think. Especially if you are with the hottest transsexual from Brazil, Luana Pacheco. She's not only gifted in her sexuality, but also in her ideas, and she will suggest you to sneak into a hotel room.
It may be the excitement of breaking into a hotel room, or perhaps the idea of penetrating this South American's hole; but you don't doubt it, not for a second. And then a surprise for your penises, about to cumming with emotion: you see a swimming pool ready for you two to make the missionary position. Only think that the best things always happen at a hotel for sure.
You can enjoy it in 5K if you have Oculus Rift, HTC Vive or Windows Mixed Reality! Also you can enjoy this amazing scene in 4K 180º FOV for Smartphone Cardboard, Samsung Gear VR and PSVR. Don't forget our awesome Binaural Sound and live the best immersive experience in VR!
VR Porn Transsexual Brazilian goddess
Help us to create more for you, select quarter or annual option in the registry! Sign up NOW and ENJOY our awesome VR porn videos! REAL SEX in your Virtual Reality Headset! (Oculus Rift, Oculus DK1, Oculus DK2, Samsung Gear VR, Google Cardboard, PSVR, HTC Vive…) VirtualRealTrans's "Sneaking into the pool". Click here!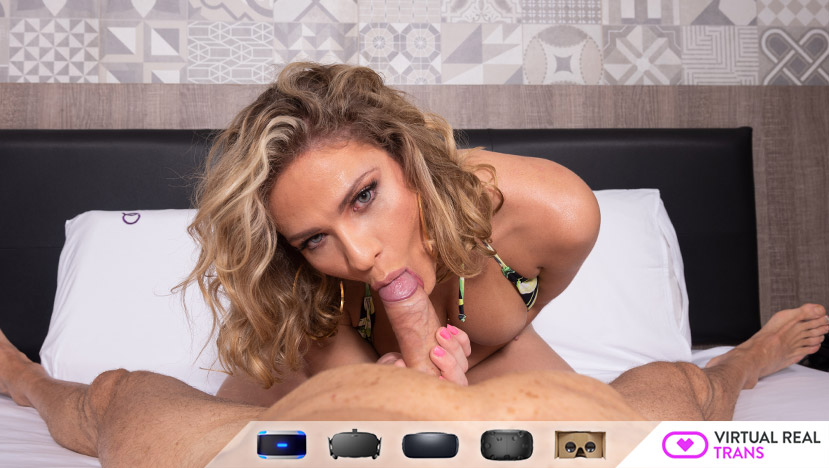 Please don't forget to send us all your requests and suggestions!
Also you can have a look to our VR Porn network with the most amazing VR Porn websites such like VirtualRealPorn,VirtualRealPassion, VirtualRealAmateur, VirtualRealGay our awesome latest site VirtualRealJapanand our VR Porn game: VRLove