Trans VR missionary with Hanna Rios

Trans VR missionary starring by Hanna Rios.
It's always hot in here. But in February and March, depending on the year, it's hotter than usual. Your girlfriend, Hanna Rios, and you, know that even though it's not the warmest time of the year, when the Carnaval de Brasil is coming, for some reason you can't get your hands off of each other. Any moment is good to start touching each other and licking all those parts on your body that really excite you and make you go for your Oculus Quest and start enjoying the VR Trans Porn celebration.
Forget about August. Summer starts at the beginning of the year. Both Hanna and you don't wait till the very last second to buy the beads or outfits you are going to use when the big day comes.
It may be the high temperatures or the excitement, but she can't hide how much she wants to give you a blowjob and handjob in the living. And if you both want it, why not starting this VirtualRealTrans colorful party a bit earlier?
You know what you two like. She likes fucking you first in missionary position and then changing places, masturbating her penis when you are doing cowgirl position, or you grabbing her hips when you are doing doggy style.
This kind of improvised experiences make you know even better your partner. And nothing like a cumshot shows that.
Trans VR missionary with Hanna Rios
Because we want to make VR Trans Porn videos for your delight. Then join to our awesome Trans VR missionary website. Available for your Oculus Go, Oculus Rift, Gear VR, PSVR, HTC Vive or any other VR smartphone device.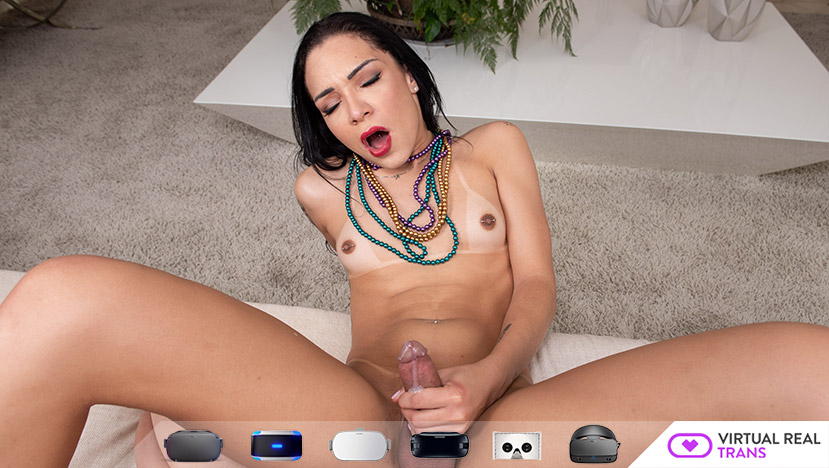 Then join us NOW to watch more Trans VR missionary service videos! REAL SEX in your Virtual Reality Headset! Oculus Rift S, Oculus Quest, Gear VR, Smartphone Cardboard, HTC Vive, Daydream VR, Mi VR, PSVR…). So have a great time with our latest production for VirtualRealTrans "Carnival mask".
Please don't forget to tell us all your requests and comments! There are very important to us to keep on improving.
Finally discover our different VR XXX websites: VirtualRealPorn, VirtualRealPassion, VirtualRealAmateur, VirtualRealGay the latest  Japanese VR site VirtualRealJapan and the VR Porn game: VRLove