Threesome in VR Trans with Caroline and Jessica

Threesome in VR Trans starring by Caroline Martins and Jessica Rodrigues.
You had been waiting for that moment. When you met your partners at VirtualRealTrans Big Fucker show Caroline Martins and Jessica Rodrigues, you couldn't stop fantasizing about licking their nipples, touching their cocks and playing with their butts. After all, this is a game, and if any of you want to be the winner, there's no time for intimate relations. Even though you three knew this from the start, the day you forgot about the prize came and you were carried away by the adventure of being inside the other in a threesome.
At this point of the game, it's all against all. Caroline felt betrayed by Jessica and her low score. Although you always had in mind this was a competition, truth is, living together for this long made you want to fuck each other. And after a long time without doing it, you know this experience in virtual reality trans was going to be more than exciting.
It was just as you had pictured it the first day. Jessica's tongue licking your cock while Caroline fucks her in doggy style. Not to mention the excitement when you see Jessica masturbating Caroline when she is on you in cowgirl position. And without a doubt, pinching their hard nipples is so hot you just want to cum in emotion.
In this kind of game show in VR XXX, an orgasm is worth more than any other prize.
Threesome in VR Trans with Caroline Martins and Jessica Rodrigues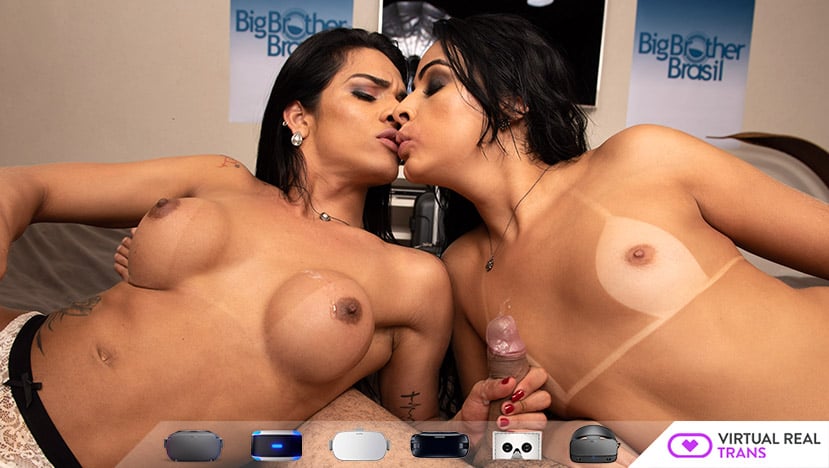 Because we want to make VR Trans Porn videos for your delight. Then join to our awesome Threesome in VR Trans website. Available for your Oculus Go, Oculus Rift, Gear VR, PSVR, HTC Vive or any other VR smartphone device.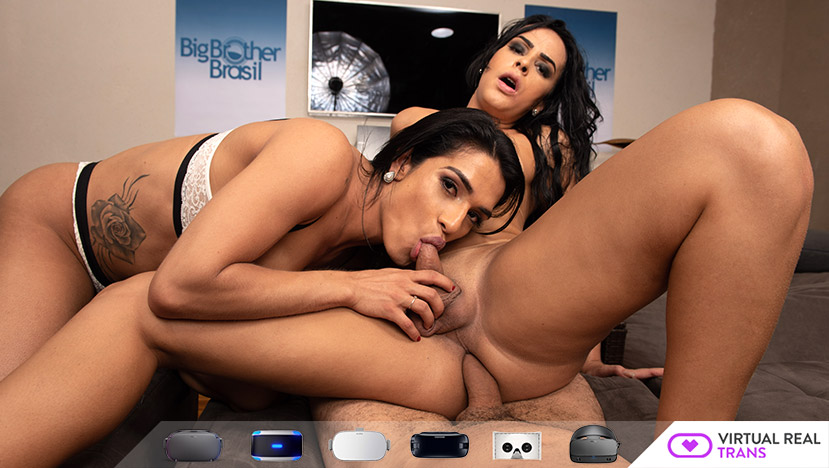 Then join us NOW to watch more Threesome in VR Trans service videos! REAL SEX in your Virtual Reality Headset! Oculus Rift S, Oculus Quest, Gear VR, Smartphone Cardboard, HTC Vive, Daydream VR, Mi VR, PSVR…). So have a great time with our latest production for VirtualRealTrans "Big Fucker".
Please don't forget to tell us all your requests and comments! There are very important to us to keep on improving.
Finally discover our different VR XXX websites: VirtualRealPorn, VirtualRealPassion, VirtualRealAmateur, VirtualRealGay the latest  Japanese VR site VirtualRealJapan and the VR Porn game: VRLove