Solo in VR Shemale with Vanessa Jhons

Solo in VR Shemale starring by Vanessa Jhons.
You had listened Vanessa Jhons' story, the Queen of Heaven, and today you decided it was the time to check the rumours about her. She comes back to VR Trans Porn from time to time to get a new adventure and satisfy her sexual desires. Her voice whispering in your ear "it's time to turn your PSVR Porn on" felt as if she was by your side…
Was it a dream or real life? Her piercing eyes, her sensual voice all over the room, her hip movements, it was all so real that the only thing you could do was letting yourself go. She slowly came closer to you and started touching your hot body and taking her clothes off to show you all her erogenous spots. She grabbed your hand and took you to the sofa and there you two began the Shemale VR Porn experience you had been waiting for so long.
Her sex was so exciting you could feel your cock getting harder and harder with every movement she did. Watching her masturbating her penis, playing with her balls and licking her fingers to get the into her big ass, made you join her and do the same. After all, the VR solo scenes have to be shared, right?
You felt everything so vivid when you saw her cumming, it was as if you were tasting her cumshot. And of course, you didn't hesitate in joining her in this moment of emotion.
Yes, rumours about Vanessa Jhons, the Queen of Heaven, were true. And now you only have to wait for the next adventure with her in Trans VR Porn.
Solo in VR Shemale with Vanessa Jhons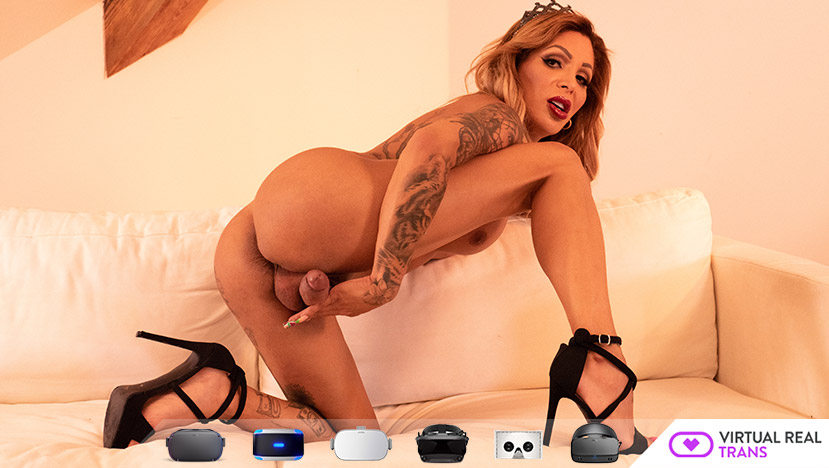 Because we want to make VR Trans Porn videos for your delight. Then join to our awesome Solo in VR Shemale website. Available for your Oculus Go, Oculus Rift, Gear VR, PSVR, HTC Vive or any other VR smartphone device.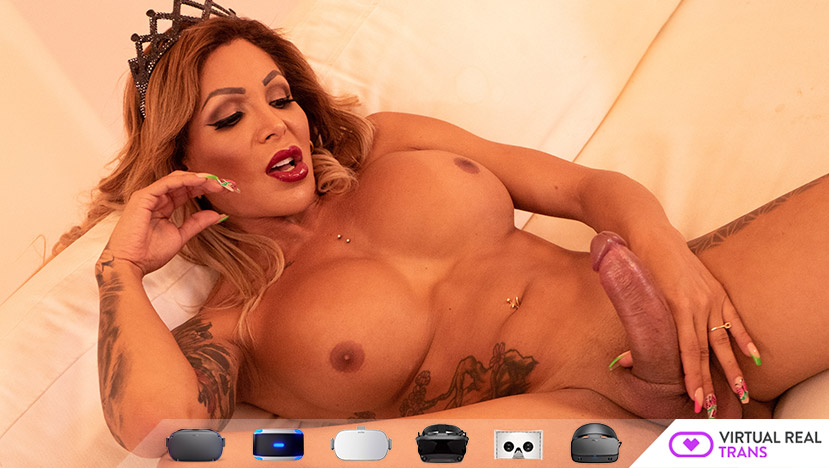 Then join us NOW to watch more Solo in VR Shemale service videos! REAL SEX in your Virtual Reality Headset! Oculus Rift S, Oculus Quest, Gear VR, Smartphone Cardboard, HTC Vive, Daydream VR, Mi VR, PSVR…). So have a great time with our latest production for VirtualRealTrans "Queen of Heaven".
Please don't forget to tell us all your requests and comments! There are very important to us to keep on improving.
Finally discover our different VR XXX websites: VirtualRealPorn, VirtualRealPassion, VirtualRealAmateur, VirtualRealGay the latest  Japanese VR site VirtualRealJapan and the VR Porn game: VRLove