Shower Dildo Masturbation in VR Trans

Shower Dildo Masturbation in VR Trans with Bianca Ruiva
Join the busty redhead Bianca Ruvia in a steamy shower masturbation.
The warm weather is making the beautiful bombshell, Bianca Ruvia, sweaty and hot. In an effort to cool herself down, the gorgeous babe with big tits decides to take a quick shower while wearing a white tank top and panty. The cold water immediately makes her top stick into her skin, revealing her stunning curves. Taking a shower may have cooled down her body but Bianca's burning lust has gotten more uncontrollable. Not able to keep her urges in check any longer, the busty babe starts fooling around in the bathroom.
Wanting to make her shower experience more pleasing, Bianca comes up with a naughty idea. She starts playing with her big tits while jerking off her big cock. Bianca can't help but let out moans of delight as she touches her stunning body. Simply jerking off is not enough to satisfy her desires. The horny goddess takes out a huge purple dildo and sucks it like it is a real cock. She then slides the sex toy up her ass while bending over. Bianca lies down on the floor and continues to ram the dildo up her ass while jerking off his cock. Her strokes and thrusts get faster and more intense as she reaches the highest point of her orgasms.
Shower Dildo Masturbation in VR Trans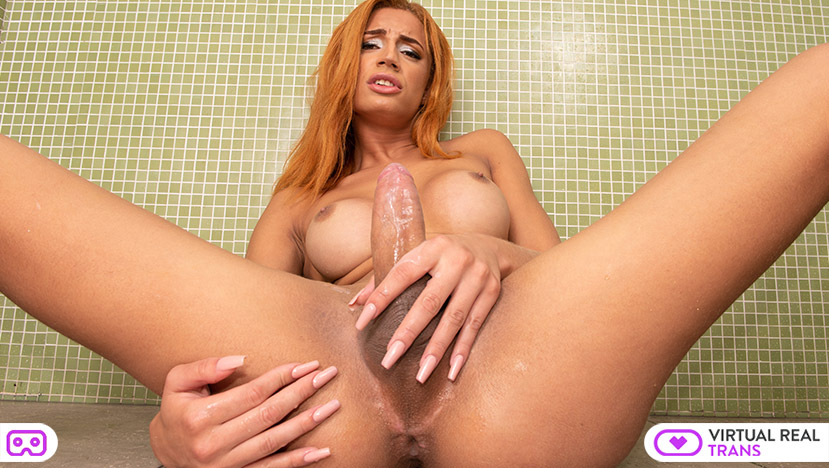 Because we want to make VR Trans Porn videos for your delight. Then join to our awesome Shower Dildo Masturbation in VR Trans website. Available for your Oculus Go, Oculus Rift, Gear VR, PSVR, HTC Vive or any other VR smartphone device.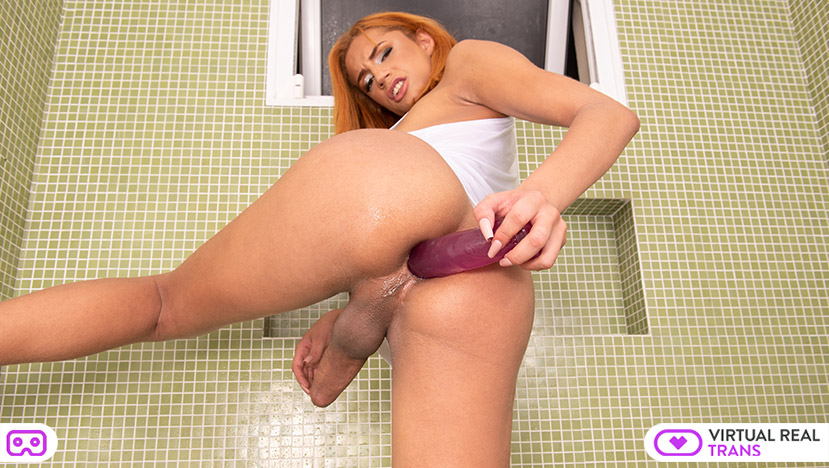 Then join us NOW to watch more Shower Dildo Masturbation in VR Trans service videos! REAL SEX in your Virtual Reality Headset! Oculus Rift S, Oculus Quest, Gear VR, Smartphone Cardboard, HTC Vive, Daydream VR, Mi VR, PSVR…). So have a great time with our latest production for VirtualRealTrans "My Beloved Dildo".
Please don't forget to tell us all your requests and comments! There are very important to us to keep on improving.
Finally discover our different VR XXX websites: VirtualRealPorn, VirtualRealPassion, VirtualRealAmateur, VirtualRealGay the latest  Japanese VR site VirtualRealJapan and the VR Porn game: VRLove