Shemale VR lingerie porn with Karina Abelha
Shemale VR lingerie porn starring by Karina Abelha!
After almost four years of VirtualRealTrans (mark the 26th of November on your calendar) we believe it's time for you to know the legend of the Monster Cock. From time to time, Karina Abelha, goes from door to door looking for something else than a trick-or-treat. That's why we must tell you, you'll need more than some chocolates and sweets to satisfy her "cock-tooth".
You may have bought second hand décor for a Halloween costume party at your place. Or it may happen that your guests tonight aren't your friends but Monster Cock and her thirst for an adventure in VR Trans Porn.
Did you really think that your body was going to stop shaking with a handjob and titjob? Truth is, when Karina walks in your living room is just for one reason: fucking with you in reverse cowgirl and missionary positions.
Monster Cock won't leave your house until she makes you a blowjob and you cum over her tits. Now that you know the legend is true, do you really want her to leave?
Shemale VR lingerie porn starring by hottie Karina Abelha!
Because we want to make Shemale VR lingerie porn videos for your delight. Then join to our awesome Tranny 3D VR videos website. Available for your Oculus Go, Oculus Rift, Gear VR, PSVR, HTC Vive or any other VR smartphone device.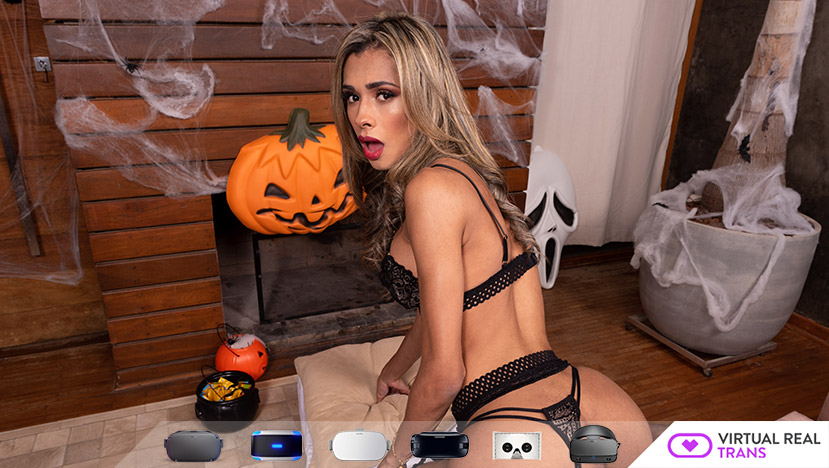 Then join us NOW to watch more Shemale VR lingerie porn service videos! REAL SEX in your Virtual Reality Headset! Oculus Rift S, Oculus Quest, Gear VR, Smartphone Cardboard, HTC Vive, Daydream VR, Mi VR, PSVR…). So have a great time with our latest production for VirtualRealTrans "Monster Cock".
Please don't forget to tell us all your requests and comments! There are very important to us to keep on improving.
Finally discover our different VR XXX websites: VirtualRealPorn, VirtualRealPassion, VirtualRealAmateur, VirtualRealGay the latest  Japanese VR site VirtualRealJapan and the VR Porn game: VRLove