Sensual Anal Masturbation and Meditation

Sensual Anal Masturbation and Meditation in VR Trans with Sthefany Venturiny
Sthefany Venturiny pleases herself while meditating. 
Busty babe with curly hair, Sthefany Venturiny, wants to have a moment of relaxation to relieve her body of stress. To do that, the gorgeous bombshell prepares a special meditation routine. She cleans the air around her using an incense stick before starting her meditation. The smell of the incense is not enough to calm her down, so she pours relaxing oil all over her curvy body. The combination of the incense and oil not only relaxes her body but also empties her mind. The only thing Sthefany can think about right now is how to satisfy herself. She starts playing with her big tits while stroking her big cock.
Simply massaging her smooth skin is not enough to satisfy her lust. Luckily, her favorite dildo is within her reach. Sthefany blows the sex toy like it is a real cock before shoving it deep into her ass. She can't help but moan in delight while she slides the dildo in and out of her bum in different positions. She combines intense anal pleasure with masturbation. Sthefany tirelessly jerks off her cock and bangs her ass like she is somewhat in a manic trance. She keeps on playing with her irresistible body and big shaft until she cums all over herself and achieves inner peace.
Watch more intense anal masturbations at VirtualRealTrans.
Sensual Anal Masturbation and Meditation in VR Trans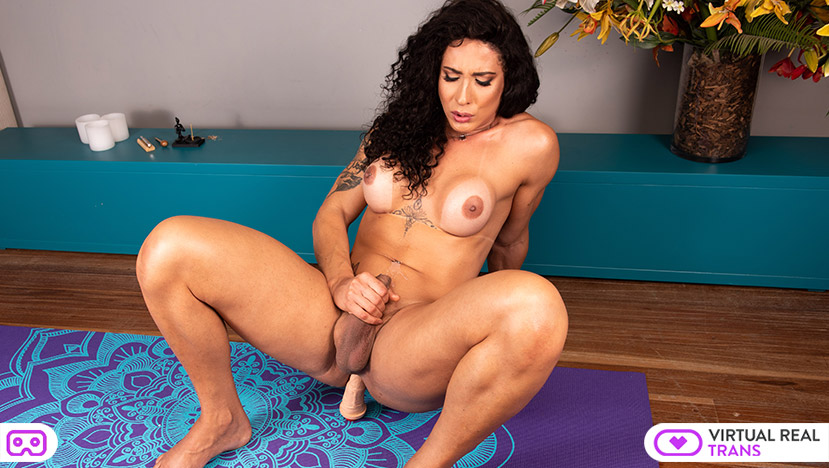 Because we want to make VR Trans Porn videos for your delight. Then join to our awesome Sensual Anal Masturbation and Meditation in VR Trans website. Available for your Oculus Go, Oculus Rift, Gear VR, PSVR, HTC Vive or any other VR smartphone device.
Then join us NOW to watch more Sensual Anal Masturbation and Meditation in VR Trans service videos! REAL SEX in your Virtual Reality Headset! Oculus Rift S, Oculus Quest, Gear VR, Smartphone Cardboard, HTC Vive, Daydream VR, Mi VR, PSVR…). So have a great time with our latest production for VirtualRealTrans "Meditation".
Please don't forget to tell us all your requests and comments! There are very important to us to keep on improving.
Finally discover our different VR XXX websites: VirtualRealPorn, VirtualRealPassion, VirtualRealAmateur, VirtualRealGay the latest  Japanese VR site VirtualRealJapan and the VR Porn game: VRLove