Reverse Cowgirl in VR Trans with Luiza Silva

Reverse Cowgirl in VR Trans starring by Luiza Silva.
Summer, the perfect season to go to the beach, have some drinks on a terrace and play football with friends in your garden. The problem of a football match in such a closed space is that accidents, like kicking the ball to you neighbor's garden, happen. By chance, you were the one who went to Luiza Silva's place to ask for the ball. After this accidental encounter you learnt three things: first, how much you love doing an anal in reverse cowgirl position, second, a reminder to visit your neighbor more often (especially when she's sunbathing) and third; casual encounters may lead to adventures in VR Trans Porn you can always repeat whenever you ring her door.
From the very first moment you saw Luiza, you couldn't stop thinking about her perky tits, her rock-hard ass, her long legs and beautiful smile. She ended up being the protagonist of all the adventures you watch in TS VR Porn. Until you could finally meet her, in a very intimate way.
It was even better than what you had imagined; the way she sucked your cock, licked your balls, shook her hips in cowgirl position while pinching her hard nipples. It was all so erotic, so exciting, you couldn't wait any longer to have an orgasm full of emotion.
From now on, you will play football more often and visit Luiza Silva every afternoon in Shemale VR Porn.
Reverse Cowgirl in VR Trans with Luiza Silva
Because we want to make VR Trans Porn videos for your delight. Then join to our awesome Reverse Cowgirl in VR Trans website. Available for your Oculus Go, Oculus Rift, Gear VR, PSVR, HTC Vive or any other VR smartphone device.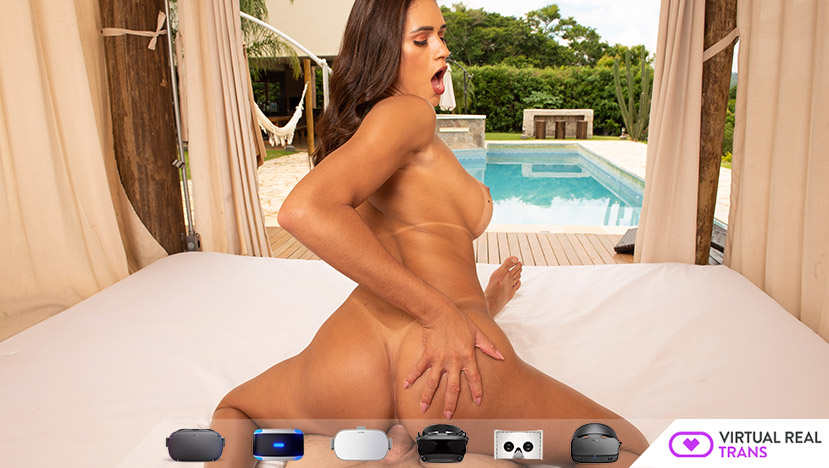 Then join us NOW to watch more Reverse Cowgirl in VR Trans service videos! REAL SEX in your Virtual Reality Headset! Oculus Rift S, Oculus Quest, Gear VR, Smartphone Cardboard, HTC Vive, Daydream VR, Mi VR, PSVR…). So have a great time with our latest production for VirtualRealTrans "Close Match".
Please don't forget to tell us all your requests and comments! There are very important to us to keep on improving.
Finally discover our different VR XXX websites: VirtualRealPorn, VirtualRealPassion, VirtualRealAmateur, VirtualRealGay the latest  Japanese VR site VirtualRealJapan and the VR Porn game: VRLove