Lifetime subscription option in Black Week!

This is not a drill!
Lifetime subscription option in Black Week!
Black Friday in VirtualRealTrans is just hanging around the corner, yet we decided to turn up the excitement for all our loyal customers as early as now. Our newly included Lifetime subscription option in Black Week lets you watch as many VR Trans porn videos as you want all year round. And for the years to come! With tons of HD and sensual videos in our Virtual Trans arsenal. You're all set for the upcoming sales and holidays.
Pair our videos with lovesense toys to experience realistic sexual encounters with your favorite Trans actresses. Lovesense toys are smartly synchronized to match the movements and rhythm of actresses, making customers feel as though they are truly living out their dirtiest daydreams.
BLACK WEEK PROMOS FOR VR TRANS FANS: MORE HD VIDEOS, UNLIMITED ENJOYMENT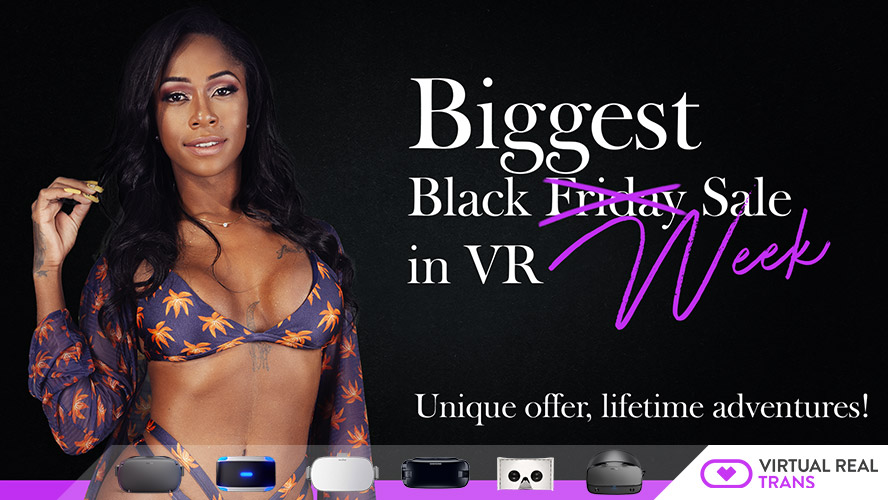 We understand your desire for comfort, privacy and high quality entertainment. After all, VirtualRealTrans is a porn genre that's pretty much considered to be unconventional content for VR sex fans. Thus, we are continuously teaming up with providers of premium sex toys and virtual reality porn technology. You don't have to hide your secret desires because our HD videos ensure full surround-sound experience and steamy encounters that feel close to the real thing.
Still craving for more? Check out our VirtualRealPorn and VirtualRealGay subscriptions! We've amazing deals and discounts prepared just for you.
Don't be the last to avail our Lifetime subscription option in Black Week View our payment options now. Better yet, spread the good news to your friends—the more subscribers we get, the more HD videos and amazing features we can add to make your VR experience truly one-of-a-kind.
Stay tuned for more upcoming promotions and discounts on all our adult virtual reality video collections.