Hot shower in VR Trans with Julia Alves

Hot shower in VR Trans starring by Julia Alves!
There are lots of things you discovered during the lockdown. Your favorite? The webcam shows Julia Alves does in VirtualRealTrans. Every week, after coming from work, you have the chance of watching her satisfying her desires in different ways. She was feeling a bit dirty and wanted to share with you the way she likes to shower. Are you ready to get wet?
As every Thursday, Julia turned on the webcam and said hi with her sweet Portuguese accent. She was wearing a white lace robe which highlighted her cinnamon skin and her boobs. You could feel the heat starting to run through your crotch and your cock getting harder and harder. It was the moment to go to the shower and find the best position to enjoy a new adventure in Trans VR Porn.
You watched the water drops running slowly over her hard nipples, her playing with her penis while licking the dildo to get it into her rock-hard ass. She didn't stop touching her erogenous spots while masturbating. You could listen to her moaning in excitement and so you did. She came closer to the camera so you could see her face full of pleasure; that Vr Trans Porn moment when you are about to get to the climax. Watching her cumming was so orgasmic you couldn't help but doing the same.
You didn't know this way to take a shower, but it's something you'll definitely do in your next one.
Hot shower in VR Trans with Julia Alves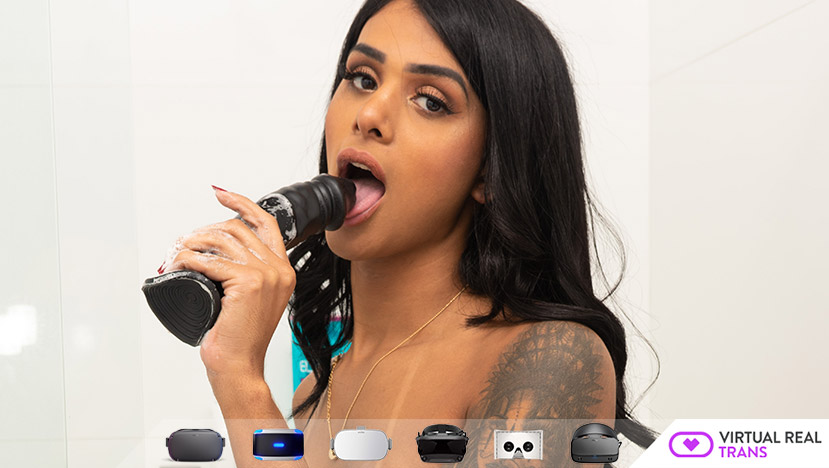 Because we want to make VR Trans Porn videos for your delight. Then join to our awesome Hot shower in VR Trans website. Available for your Oculus Go, Oculus Rift, Gear VR, PSVR, HTC Vive or any other VR smartphone device.
Then join us NOW to watch more Hot shower in VR Trans service videos! REAL SEX in your Virtual Reality Headset! Oculus Rift S, Oculus Quest, Gear VR, Smartphone Cardboard, HTC Vive, Daydream VR, Mi VR, PSVR…). So have a great time with our latest production for VirtualRealTrans "Shared Shower".
Please don't forget to tell us all your requests and comments! There are very important to us to keep on improving.
Finally discover our different VR XXX websites: VirtualRealPorn, VirtualRealPassion, VirtualRealAmateur, VirtualRealGay the latest  Japanese VR site VirtualRealJapan and the VR Porn game: VRLove