Garter belt VR trans with Vitoria Neves
Garter belt VR trans starring by Vitoria Neves.
You've never been the kind of person who gets easily in love. But, that was until you met Vitoria Neves. What you liked most about her was the way she has to celebrate random moments for no reason. Today's? Opening a bottle of wine to make a toast for another day with you in VR Trans Porn.
You don't get to meet people like Vitoria every day, that's why, when you saw her for the first time using her Oculus rift, you knew she was special.
Her way of saying "muito gustoso". The way she swings her hips when doing a striptease. When she sits by you to give you a blowjob. How good she looks in that garter belt fucking in cowgirl position. Or even better, how horny you get when she penetrates you while giving you a handjob.
There's no need to tell her anything, she knows how much you appreciate this surprise in virtual reality trans porn. Still, you prefer doing it doggy style.
Garter belt VR trans scene with Vitoria Neves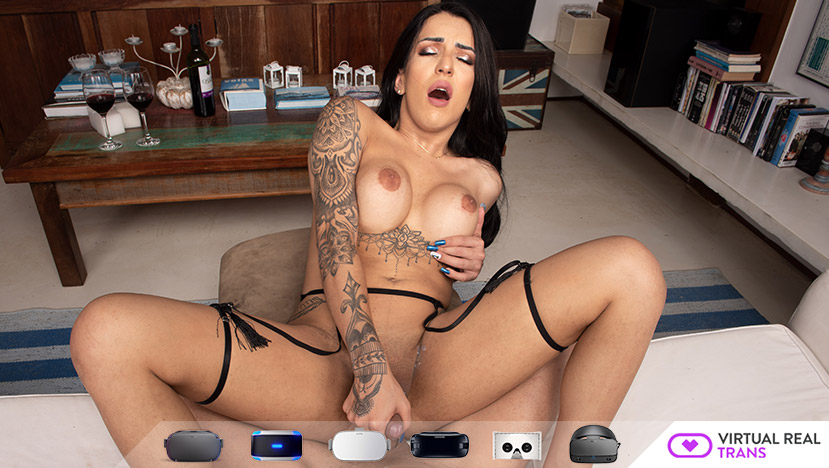 Because we want to make VR Trans Porn videos for your delight. Then join to our awesome Garter belt VR trans videos website. Available for your Oculus Go, Oculus Rift, Gear VR, PSVR, HTC Vive or any other VR smartphone device.
Then join us NOW to watch more Garter belt VR trans service videos! REAL SEX in your Virtual Reality Headset! Oculus Rift S, Oculus Quest, Gear VR, Smartphone Cardboard, HTC Vive, Daydream VR, Mi VR, PSVR…). So have a great time with our latest production for VirtualRealTrans "Garter Belt Lover".
Please don't forget to tell us all your requests and comments! There are very important to us to keep on improving.
Finally discover our different VR XXX websites: VirtualRealPorn, VirtualRealPassion, VirtualRealAmateur, VirtualRealGay the latest  Japanese VR site VirtualRealJapan and the VR Porn game: VRLove