Full sex in VR Trans with Nathalia Castro

Full sex in VR Trans starring by Nathalia Castro.
You, more than anybody, understand those moments full of demotivation. Being writer means have either moments of great inspiration or those when you aren't able to write a single word. Today, is one of the latest. Right when you were about to turn off your computer, Nathalia Castro, a great fan of all the VR Trans adventures you've written, knocks on your door. And if there's something you've learnt throughout your career is that when motivation kicks on your pants, you have to let yourself go and enjoy it.
You were having one of those moments when the Eureka feeling is hard to find. Call it a mistake or fate, but this beautiful lady appears at your door with your book. As soon as she saw you, she did what every fan would do, asking you for an autograph and a souvenir to always remember this moment in virtual reality trans porn.
In a second you were feeling Nathalia's lips going through your cock, her hands caressing your chest, her rock-hard ass rubbing against you in reverse cowgirl position, her dick as hard as yours, her masturbation while fucking in cowgirl position…
Now you can say you found real inspiration.
All VirtualRealTrans adventures are about this, reaching together as many orgasms as possible. And if you can also fulfill your dreams, even better!
Full sex in VR Trans with Nathalia Castro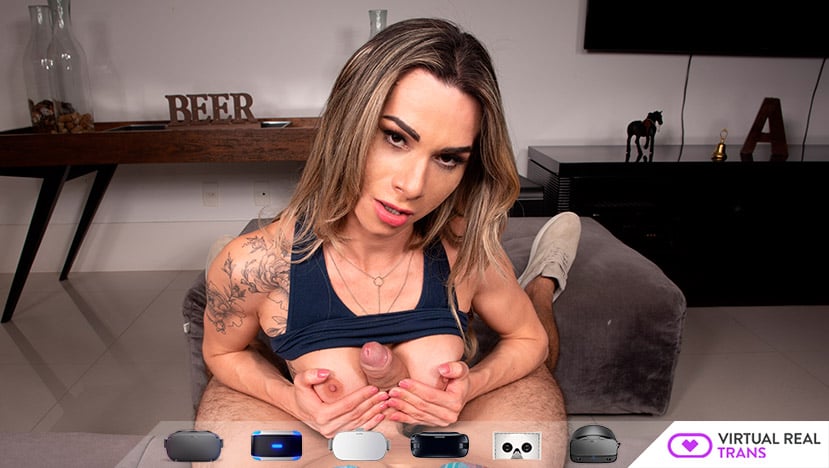 Because we want to make VR Trans Porn videos for your delight. Then join to our awesome Full sex in VR Trans website. Available for your Oculus Go, Oculus Rift, Gear VR, PSVR, HTC Vive or any other VR smartphone device.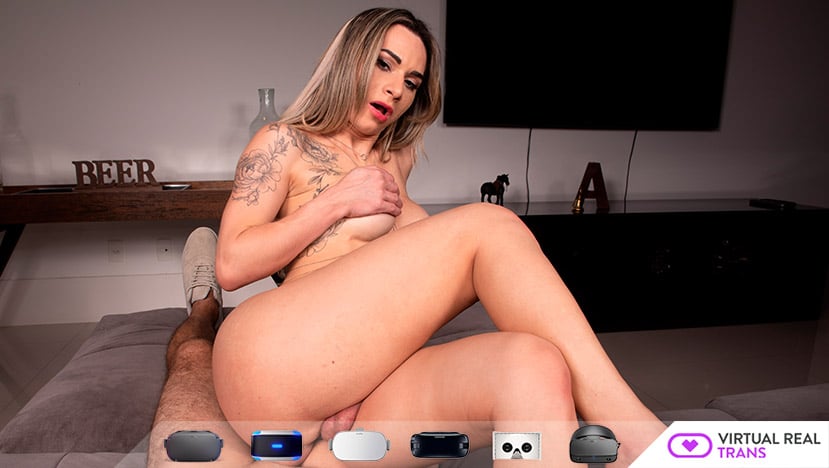 Then join us NOW to watch more Full sex in VR Trans service videos! REAL SEX in your Virtual Reality Headset! Oculus Rift S, Oculus Quest, Gear VR, Smartphone Cardboard, HTC Vive, Daydream VR, Mi VR, PSVR…). So have a great time with our latest production for VirtualRealTrans "Plot Twist".
Please don't forget to tell us all your requests and comments! There are very important to us to keep on improving.
Finally discover our different VR XXX websites: VirtualRealPorn, VirtualRealPassion, VirtualRealAmateur, VirtualRealGay the latest  Japanese VR site VirtualRealJapan and the VR Porn game: VRLove