Doggy in VR Trans with Kimber Lee
Doggy in VR Trans starring by Kimber Lee.
You have always wanted to be part of the Armed Forces of VirtualRealTrans. Maybe, one of the hardest things when you joined this brigade as captain was being away from your lover, Kimber Lee. After so long apart, you both met again in a hotel room (to keep your relation a secret, of course). As soon as you saw her full lips and her voluptuous body, you couldn't wait for the room service to come to feel her penis.
As soon as you saw her, the first thing you thought was "It's so good to have Kimber Lee back in VR Trans Porn"
It's like no time had passed between you. She still likes you to slowly undress her, play with her nipples and touch her body.
You? You like feeling her tongue on your cock, watching her masturbating while she's in cowgirl position and listening to her moans while she's in doggy style.
Somethings will never change in virtual reality trans.
Even though you know you have to go away again form Kimber lee, you're sure you'll always have this last shag in transsexual VR Porn. 
Doggy in VR Trans with Kimber Lee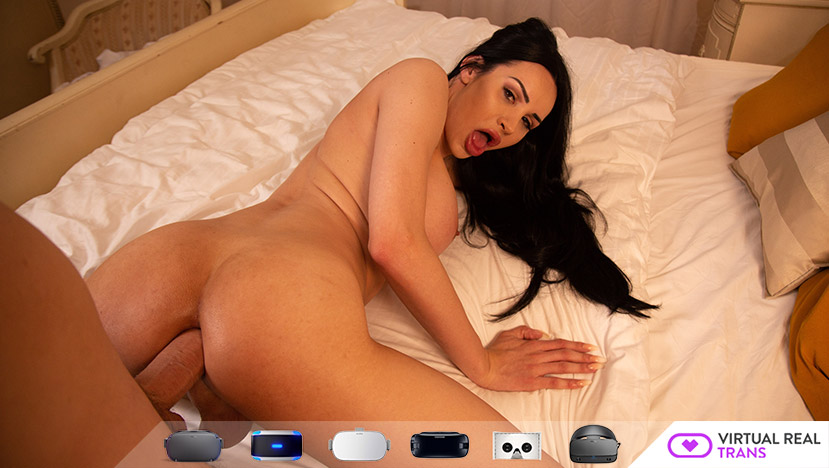 Because we want to make VR Trans Porn videos for your delight. Then join to our awesome Doggy in VR Trans website. Available for your Oculus Go, Oculus Rift, Gear VR, PSVR, HTC Vive or any other VR smartphone device.
Then join us NOW to watch more Doggy in VR Trans service videos! REAL SEX in your Virtual Reality Headset! Oculus Rift S, Oculus Quest, Gear VR, Smartphone Cardboard, HTC Vive, Daydream VR, Mi VR, PSVR…). So have a great time with our latest production for VirtualRealTrans "Forbidden Love".
Please don't forget to tell us all your requests and comments! There are very important to us to keep on improving.
Finally discover our different VR XXX websites: VirtualRealPorn, VirtualRealPassion, VirtualRealAmateur, VirtualRealGay the latest  Japanese VR site VirtualRealJapan and the VR Porn game: VRLove