Devils Fuck in VR Trans with Vanessa Jhons

Devils Fuck in VR Trans starring Vanessa Jhons and Nick Vargas
There is a reason why you shouldn't play with the afterlife. Or at least, if you are going to, do it with someone with experience. All these warnings were worthless and you ended up celebrating your Halloween Party invoking the devil. What you never imagined is that the creature to appear in your living room would be one of the queens of evil, Vanessa Johns. Her body, lush breasts and mouth, all led you to picture how amazing it would be to have the chance of masturbating her big penis while fucking in cowgirl position. If there's something you didn't know about this goddess is that one of her powers is reading minds. So, you'd better get your ps4 vr porn ready to live with her the lustiest desires in Vr Trans Porn. "What shall I do with you?" before Vanessa came closer to you to rub her big tits against your chest, you could hear these words. You felt her breathing getting faster every time you touched her nipples while she did the same to you. Feeling her tongue.
Licking every inch of your cock while grabbing her long hair so she would keep on doing it was so exciting. You listened to her moans of pleasure and didn't stop touching her rock-hard ass fucking in reverse cowgirl position (just impossible not to). You rubbed her smooth tits while in missionary position. You loved watching her immersed in pleasure. The only thing you could think of was how much you'd like this Trans VR Porn adventure to last the whole year. Sadly, Halloween is just once a year, but you know you can go back to this vr xxx experience whenever you want.
Devils Fuck in VR Trans with Vanessa Jhons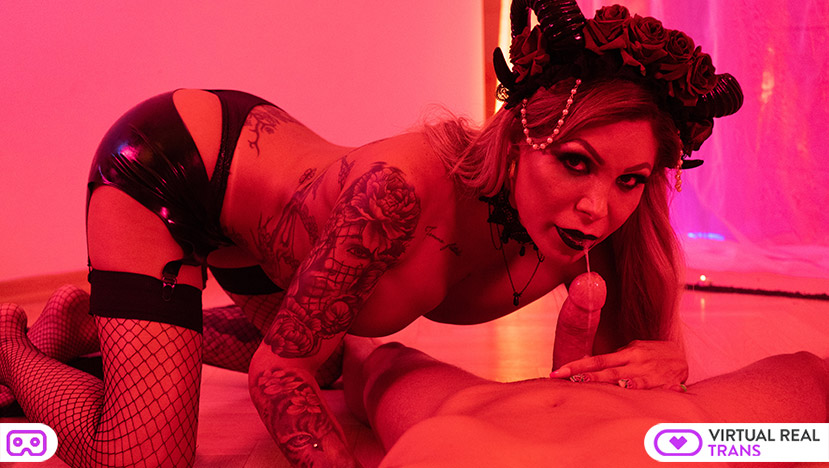 Because we want to make VR Trans Porn videos for your delight. Then join to our awesome Hot shower in VR Trans website. Available for your Oculus Go, Oculus Rift, Gear VR, PSVR, HTC Vive or any other VR smartphone device.
Then join us NOW to watch more Hot shower in VR Trans service videos! REAL SEX in your Virtual Reality Headset! Oculus Rift S, Oculus Quest, Gear VR, Smartphone Cardboard, HTC Vive, Daydream VR, Mi VR, PSVR…). So have a great time with our latest production for VirtualRealTrans "The Devils's Advocate".
Please don't forget to tell us all your requests and comments! There are very important to us to keep on improving.
Finally discover our different VR XXX websites: VirtualRealPorn, VirtualRealPassion, VirtualRealAmateur, VirtualRealGay the latest  Japanese VR site VirtualRealJapan and the VR Porn game: VRLove