Blindfold Surprise Prank in VR Trans with Barbara

Blindfold Surprise Prank in VR Trans with Barbara Pires and Victor Hugo
Lovely Barbara Pires comes over to your place, and you invite her to play a little game.
Feeling a little mischievous, you invite your stunning girlfriend, Barbara Pires, over because you have a "surprise" for her. In the bedroom, you tell her that she has to guess the fruit you will give her— if she gets everything right, she gets a prize. Things start innocent enough; you let her wear a blindfold and hand her pieces of fruits from the box. The stunning lady is enthusiastic and visibly enjoying the little game you two are playing. You encourage her whenever she is having trouble guessing and praise Barbara when she gets the answer right.
Things get naughty once you decide to let her hands feel her "surprise" for the night, which is your aching rod. Barbara takes off her blindfold, lets out a little laugh at your antics before indulging your desires with a sensual blowjob. The events quickly escalate from there, from Barbara being on all fours for doggy to letting her take charge in anal penetration. The sounds of moans and skin slapping against skin resonate inside the room, indicating how pleasurable you are making each other feel.
Blindfold Surprise Prank in VR Trans with Barbara Pires
Because we want to make VR Trans Porn videos for your delight. Then join to our awesome Blindfold Surprise Prank in VR Trans website. Available for your Oculus Go, Oculus Rift, Gear VR, PSVR, HTC Vive or any other VR smartphone device.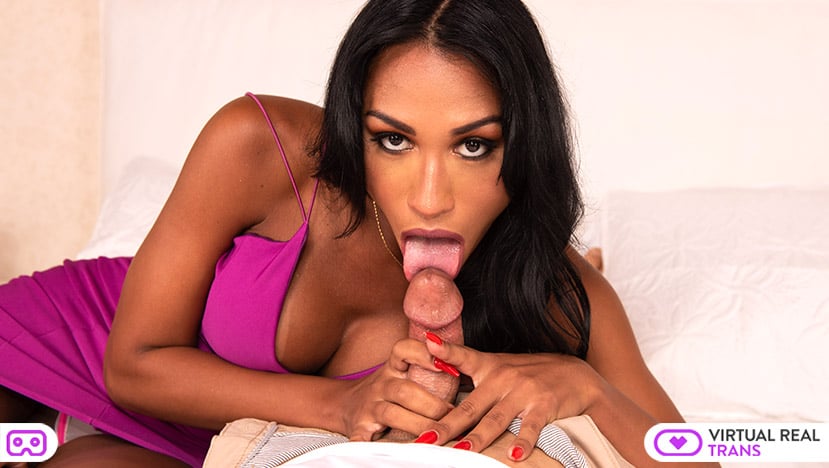 Then join us NOW to watch more Blindfold Surprise Prank in VR Trans service videos! REAL SEX in your Virtual Reality Headset! Oculus Rift S, Oculus Quest, Gear VR, Smartphone Cardboard, HTC Vive, Daydream VR, Mi VR, PSVR…). So have a great time with our latest production for VirtualRealTrans "It Wasn't Just a Prank".
Please don't forget to tell us all your requests and comments! There are very important to us to keep on improving.
Finally discover our different VR XXX websites: VirtualRealPorn, VirtualRealPassion, VirtualRealAmateur, VirtualRealGay the latest  Japanese VR site VirtualRealJapan and the VR Porn game: VRLove