VR Trans porn masturbation with Paola

VR Trans porn masturbation starring by Paola Nascimiento.
It's been some long now since your wife, Paola Nascimiento, and you started experimenting different sex plays. Masturbators for the couple, making the other's fantasies come true, doing a threesome. When it comes to a steady relationship, wanting to spice things up in bed doesn't mean things aren't going well, but that both of you want to try different ways to know deeply your sexual desires. And, of course, this strengthens the confidence between you. Easter Day was an excuse for Paola to cross out something on her list, and surprise you with an adventure in VR Trans Porn.
What a delight! Without any doubt, it's a pleasure. Watching her taking off that sexy lingerie she bought to surprise you. Without wasting any time, she comes closer, touches you and you can feel her tongue running through your cock.
She can't stand it anymore.
Paola sits on you in reverse cowgirl position, you grab her by the waist and start swinging back and forth while you feel her rock-hard ass. Fucking in missionary position isn't enough, she also wants to do it with you in this virtual reality trans porn surprise encounter.
She doesn't stop playing with you or you with her. Masturbating faster and faster your cocks until you both cum over the other.
This will be your favorite VR Trans XXX sex play, right?
VR Trans porn masturbation with Paola Nascimiento
Because we want to make VR Trans Porn videos for your delight. Then join to our awesome VR Trans porn masturbation website. Available for your Oculus Go, Oculus Rift, Gear VR, PSVR, HTC Vive or any other VR smartphone device.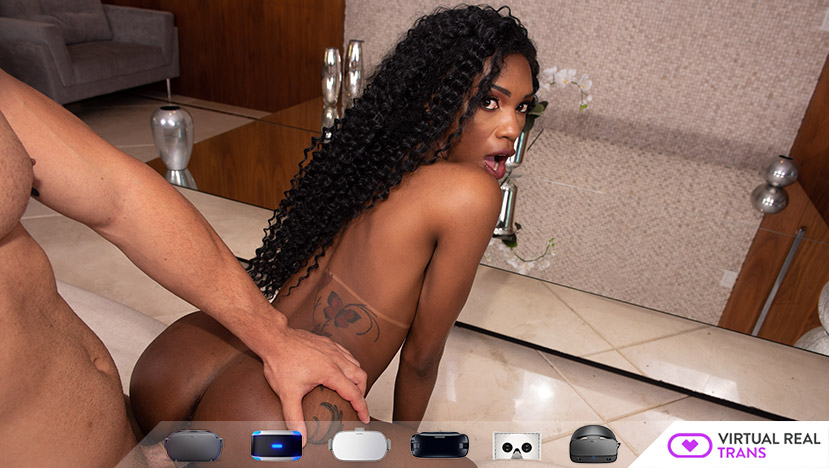 Then join us NOW to watch more VR Trans porn masturbation service videos! REAL SEX in your Virtual Reality Headset! Oculus Rift S, Oculus Quest, Gear VR, Smartphone Cardboard, HTC Vive, Daydream VR, Mi VR, PSVR…). So have a great time with our latest production for VirtualRealTrans "Sexy rabbit".
Please don't forget to tell us all your requests and comments! There are very important to us to keep on improving.
Finally discover our different VR XXX websites: VirtualRealPorn, VirtualRealPassion, VirtualRealAmateur, VirtualRealGay the latest  Japanese VR site VirtualRealJapan and the VR Porn game: VRLove