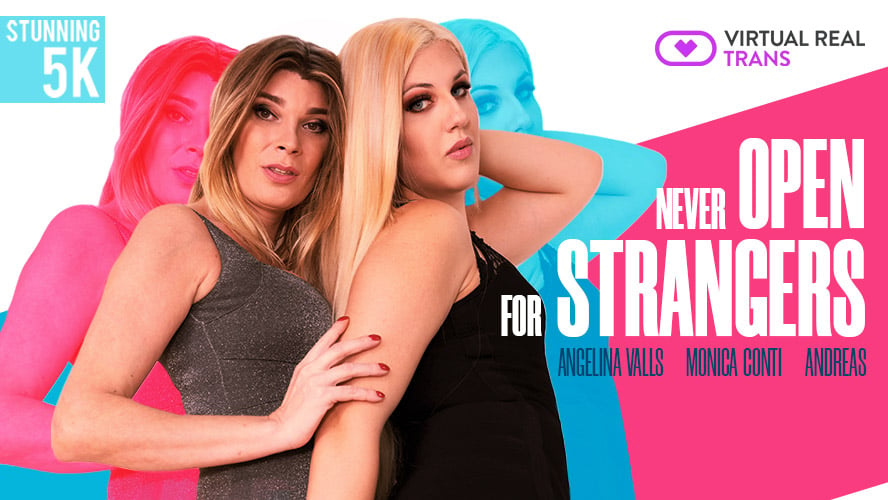 Trans VR blonde threesome sex
Trans VR blonde threesome sex with two hungry shemales in lingerie.
It may be a bit late to advise you not to open the door to strangers. But if you always lived free of risks, you would have never grabbed your oculusgo to live experiences in VR Trans Porn; and this time, it wasn't different. Don't blame yourself; anybody would have done the same in your position if the ones knocking on your door are well-gifted Angelina Torres and Monica Conti.
Once they are in your place, listening to what they want to tell you won't hurt. Especially if you realize they aren't here to sell you anything but to have a threesome with you. What could happen then?
Luckily for you and your penis, these hot transsexuals aren't here to have a coffee. But to give you a blowjob in return for an anal in cowgirl position. Again, what could go wrong?
We don't want to be the party pooper. Also if after cumming over them you realize they stole you something, don't focus on the negative side but think you had an adventure in virtual reality porn with them.
Trans VR blonde threesome surprise when you open the door for strangers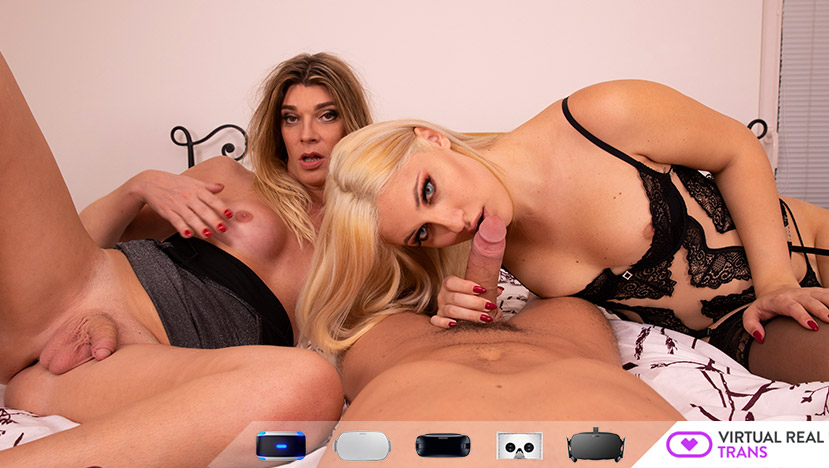 So we want to make new Trans VR blonde threesome videos for your delight. Because we want to make your sexual Trans VR blonde threesome wet dreams come true. Available for your Oculus Go, Oculus Rift, Samsung Gear VR, PSVR, HTC Vive or VR smartphone headset.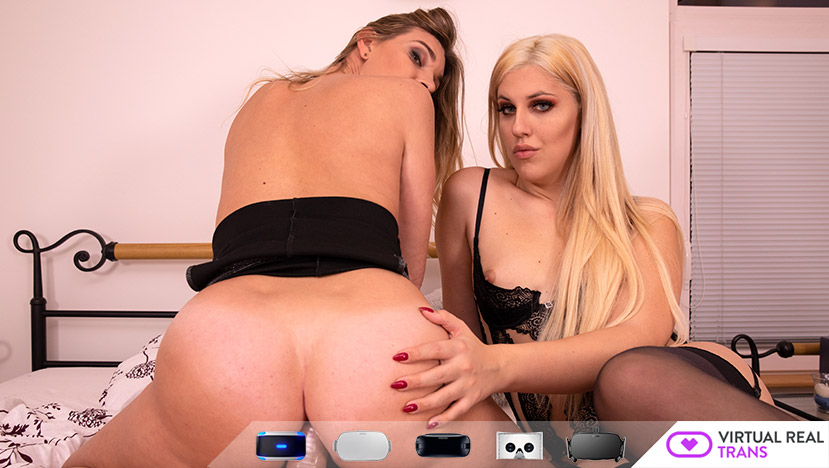 So help us to keep on shooting more Trans VR blonde threesome scenes for your delight! Then join us NOW and ENJOY more Trans VR sex videos! REAL SEX in your Virtual Reality Headset! Oculus Go, Oculus Rift, Samsung Gear VR, Smartphone Cardboard, HTC Vive, Google Daydream VR, PSVR…). Have a great time with VirtualRealTrans' "Never open for strangers". Click here!
Please don't forget to tell us all your requests and comments!
Finally you can get inside our different VR XXX websites and discover: VirtualRealPorn, VirtualRealPassion, VirtualRealAmateur, VirtualRealGay our latest site VirtualRealJapan and the awesome VR Porn game: VRLove